Oak Leaf captures multimedia awards and online excellence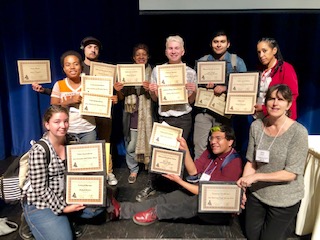 The Oak Leaf brought home a baker's dozen of awards – many for online and multimedia content — from the Journalism Association of Community College's NorCal conference Nov. 3.
Some 187 delegates from 16 community colleges participated in workshops and on-the-spot contests at San Joaquin-Delta College in Stockton.
The top honor the Oak Leaf received was Online General Excellence, which recognized the whole staff for its robust content production that includes everything from text-based articles to photo galleries, podcasts, Facebook Live broadcasts, video stories and social media feeds.
"I'm proud of those who won awards and even prouder of the entire staff who work so hard to create meaningful content for the SRJC community," said Oak Leaf Adviser Anne Belden.
Other notable wins were in multimedia categories. The Oak Leaf won both first and second place awards in video journalism and first and third in webcast/broadcast news as well as a fourth place for an online photo story. As the Oak Leaf transitions to digital-only, these multimedia awards are significant. Special thanks to Brian Antonson for helping to train several of the video award-winners.
"I was surprised when I found out I had won first place for Video Journalism, I was so proud of my partner Chelsea Wood and I for producing a video in less than five hours and not even thinking of an award," said Managing editor Jose Gonzalez. "All the hard work has paid off."
The Oak Leaf records student government and board of trustees meetings on Facebook Live.
These are the Oak Leaf website (www.theoakleafnews.com) and social media handles:
Facebook: @oakleafnews
Twitter: @theoakleafnews
Instagram: @srjcoakleafnews and @humansofSRJC
Below is a list of winners with links to the work.
Publication awards
Online General Excellence – staff
Video journalism, first place, Jose Gonzalez and Chelsea Wood
Video journalism, second place, Julia Modell and Michael Barnes
Webcast/broadcast news, first place, Julia Modell and Brandon McCapes
Webcast/broadcast news, third place, Brandon McCapes
Critical review, first place, Michael Barnes
Critical review, third place Dakota McGranahan
Editorial cartoon, second place, Rachel Edelstein
Editorial, fourth place, Rachel Edelstein
Inside page layout, third place, Rachel Edelstein and Jose Gonalez
Online photo story/essay, fourth place, Dakota McGranahan
News photo, fourth place, Andres Pimentel
On-the-spot awards
Editorial cartoon, third place, Edgar Soria-Garcia