Bear Cubs Baseball: loses heartbreaking playoff series after a stellar regular sesason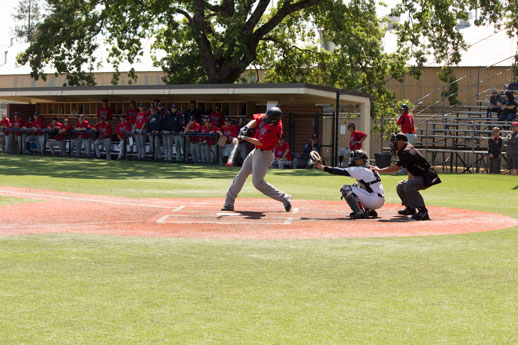 May 1
The Bear Cubs began their playoff run in style, riding a dominant pitching performance from starter Alec Rennard to an easy 8-0 win over Butte College Roadrunners at Sypher Field. Center fielder Bryce Nagata led the offense with three hits, and Mitchell West pitched in with three RBI. Rennard went eight innings for the win, allowing just three hits. He retired the final 10 batters he faced.
May 2
The Bear Cubs pitching staff continued to dominate the Roadrunners, as staff ace Garrett Hill pitched a complete game 7-hitter. Hill pounded the strike zone all afternoon, allowing seven hits without walking a batter. Jake Hedrick led a solid offensive attack, collecting four hits and scoring two runs. The Bear Cubs advanced to the second round of the California Community College Athletic Association playoffs with the win.
May 8
The Bear Cubs opened the second round of the playoffs by losing a one-run game to the College of San Mateo. Pitcher Alec Rennard struggled to hold down the Bulldogs balanced offensive attack, and the Bear Cubs offense struggled to get anything going. Mitchell West continued his red-hot postseason, collecting four more hits and scoring a run.
May 9
The Bear Cubs postseason run ended in heartbreaking fashion, as shaky defense and a lack of offensive punch was too much to overcome against a tough College of San Mateo squad. Pitcher Garrett Hill was solid once again, giving up just two runs over seven strong innings, but it wasn't enough to keep the Bear Cubs season alive. Shortstop Jake Scheiner led the team with a pair of doubles, but outside of Scheiner the offense was non-existent.