Grant brings the world to SRJC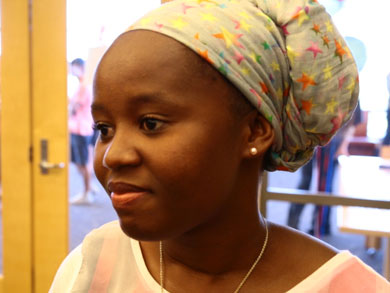 Santa Rosa Junior College's growing international student program received a federal grant to host 13 students from eight developing countries through the Community College Initiative (CCI) program.

The U.S. Department of State's Bureau of Educational and Cultural Affairs (ECA) led the initiative, which promotes intercultural exchange by sponsoring foreign students to study in American community colleges.

CCI aims to train students from developing nations to return to their home countries as global citizens with the knowledge and skills to build a better future for themselves and their respective countries, according to the ECA.

"Eligible students come from underserved populations otherwise unable to participate in study abroad programs," said Peg Saragina, director of the SRJC international students.

The 13 students come from Colombia, Ghana, India, Indonesia, Kenya, Pakistan, South Africa and Turkey. They share a desire to contribute to their countries by acquiring skills necessary for success.

CCI business student Kwena Eunice Motsoko, 24, said, "I would like to be my own boss and create job opportunities for the youth."

Unlike most SRJC international students, CCI students work toward obtaining certificates in agriculture, automotive technology, business or child development instead of transferring to a four-year university.

"We had never gotten a grant like this before," said Ganesan Srinivasan, co-writer of the grant proposal and dean of SRJC agriculture, natural resources and culinary arts department.

SRJC is one of four community colleges in the country and the only community college in California to receive the CCI grant this year from the International Research and Exchange Board.

The benefits of CCI are both academic and cultural, Saragina said. The students will bring home a new perspective on the U.S. in addition to an education.

SRJC hopes to expand its international program. This year 127 international students are attending SRJC, an increase from 88 in 2013-2014, according to the student program's office.

"I see these international students in the quad, and it changes the culture of the college, the complexion of the college, which is a good thing," said SRJC President Dr. Frank Chong.

Vice President of Student Services Ricardo Navarrete and Vice President of Academic Affairs Mary Kay Rudolph gave words of encouragement at the International Student Meet and Greet reception Aug. 26.

"We want you to be successful at SRJC because we are proud of you and we want you to represent yourself and your countries well," Rudolph said.

Both Rudolph and Navarrete said it is an opportunity for international and local students to learn about each other's cultures.