Santa Rosa Junior College darkroom photography instructor Nick Simko unveiled "Views," a down to earth portrayal of life in rural Kansas, on Oct. 5 at the Robert F. Agrella Gallery on the first floor of the Doyle Library. 
Simko, who uses he/they pronouns, created "Views" from photos he took during his time living and teaching photography at Fort Hays State University in rural Kansas during the Covid-19 pandemic. Simko photographed a mural of a rainbow going into the sea, a church, and a flagpole topped with the American Flag; three things Simko saw each time they went on a walk around their neighborhood and that they felt were emblematic of life in Kansas. No two photos are the same, and the collection offers a dynamic landscape with a diverse array of climate conditions and lighting.
"The subjects I photographed came to be emblematic of my relationship to Kansas as a queer outsider," Simko said in their artist statement. "The distant church represented the close-knit Christian community while the flag in context reflected the conservative political landscape in which I was living. The mural and its idyllic sweetness, on the other hand, mirrored my personal hope to one day live and work in a community where I felt I belonged."
Simko used an iPhone 8, a smartphone released in 2017, to take the photos. Simko said they took the photos this way because they preferred spontaneity over image quality.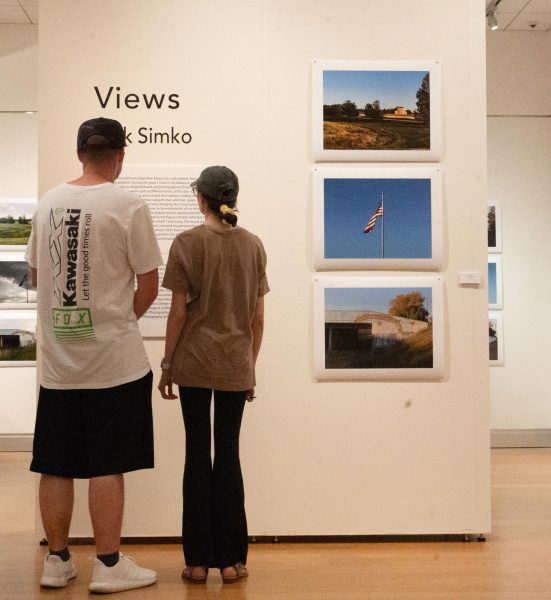 Simko's studio work has been published in the University of Pittsburgh culture journal Contemporaneity, and on Strange Fire Collective. Their photographs, videos, collage, tapestries and sculptures have been exhibited at museums and galleries throughout the United States, including the Vizcaya Museum and Gardens, the University of New Mexico Art Museum, the Walters Art Museum, Foto Relevance and Culture Lab Long Island City. They hold a master's degree in photography from the University of New Mexico and a bachelor's degree in art history, theory and criticism from the Maryland Institute College of Art.
The exhibition is open to the public from 9 a.m. to noon and 1-4 p.m. Monday through Thursday through Oct. 27 in the Robert F Agrella Art Gallery on the first floor of Doyle Library. For the public and students without parking permits, SRJC has metered parking available at the front of the school, off of Elliot Avenue, for $4.