Gunfire ricochets around you as mechs race across the battlefield. You reflexively shoot 16 missiles into the combatant in front of you, then swipe him with an energy sword to finish the job. Hours of fine-tuning every piece of your robot to your liking has created the perfect killing machine. Trial and error has led you to perform the perfect ballet of violence against anyone who dares cross your path.
This is what "Armored Core VI: Fires of Rubicon" promises to anyone willing to accept a brutally difficult continuation of From Software's mecha classic.
Before the video game company From Software grew into near-legendary status thanks to the action role playing games(RPGs) "Dark Souls", "Bloodborne" and "Elden Ring," the series that put them on the map was "Armored Core." A niche mecha series focused on detailed customization and lightning-fast reflexes to win a fight. Now, after more than a decade, the series returns in a fiery blaze.
In "Armored Core VI" you play as 621 or "Raven," a mercenary sent to the cold and war-torn planet of Rubicon to perform bounties and nothing else. You are not a hero, just a dog for a greater corporation to clean up any problems they might have, problems you can solve with a massive robot.
Rubicon is a dead planet, filled with abandoned factories, emptied cities and the ruins of megastructures. It is cold and industrial, its only living creatures are entombed within tons of metal and most of them want you dead.
You travel through this world in short mission-based levels, a large departure for those more familiar with From Software's more sprawling worlds. Missions can vary from killing everything in sight, fighting a competitor's mech or even scaling atop a multi-story behemoth machine to try to destroy it from the core. What the game lacks in the length people may expect from a $60 title, it makes up for with variety and heavy replayability.
The length of the game may vary depending on the skill of the player, as "Armored Core VI" is the hardest game in the entire From Software catalog. Bosses will require blistering reaction speeds and an immediate understanding of the game. It has become a meme that players get stuck on the tutorial boss fight. This difficulty will vary depending on what mech you bring into the fight.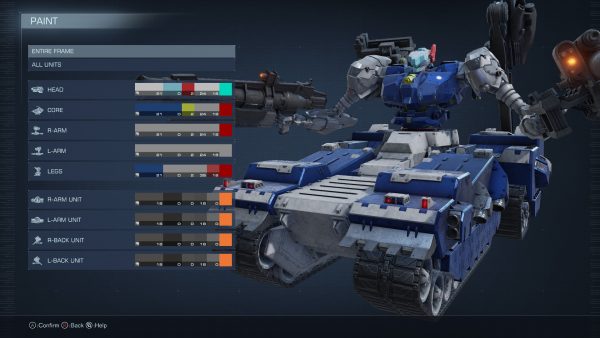 This is where the customization aspect of the game comes in. The focus of this customization is your armored core, the centerpiece of your mecha that connects to everything else, wildly changing the style of play and how difficult any given level may be depending on what you bring to the field. You can have your robot be a basic bipedal humanoid design, like how one would normally imagine a mech to appear, or it can be quadrupedal which allows you to hover in the air and bring death from above. You can even remove legs entirely and replace them with tank treads, which trade mobility for far stronger firepower. When you include the ability to change the color of every part of your mech and custom decals and icons, "Armored Core VI" allows you to create the mecha of your dreams.
Mecha is a genre with a history as old as anime itself, and the variety to match, with series ranging from political war dramas, to comedic monster-of-the-week battles and even musical space operas. Fans of both Japanese and Japan inspired media have a mental view of what it should feel and look like, and while Armored Core's identity is industrial in tone, the customization allows mech fans from all walks of life to celebrate the genre in any way they wish.
That is, if they don't get blown up too quickly.