Swifties and the Beyhive were in for a treat with the Renaissance and Eras tour. Whether you're a fan of Bey or Tay, both concerts were surrounded by an incredible amount of press, with each artist being an icon in their own right. As a fan of both I was lucky enough to attend their concerts this past month, and I have some thoughts.
Beyoncé, always an incredible performer with vocals to match, did not disappoint this past Wednesday night under the rare blue moon at Levi's Stadium in Santa Clara. Watching Taylor Swift on the last leg of her U.S. tour at SoFi Stadium in L.A. was a jaw-dropping experience. She is a true athlete, there's no other way to put it. How else could someone perform a three-and-a-half hour show taking only 30 seconds for a quick change before running right back out to keep the show going?  By the time I saw both artists, they had each already performed well over 40 shows, but both sounded as if it was their first night on stage.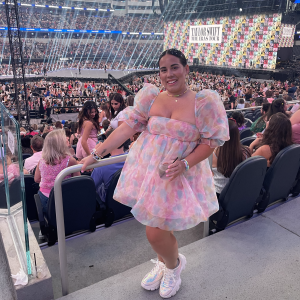 So, whose show was better? Beyoncé's vocals, in my opinion, were the star of the Renaissance tour as she opened her show with a glorious version of "Dangerously in Love," bringing many of her fans to tears in the stands. Taylor's opening began on a suspenseful note, then went electric, starting with "Miss Americana," then transitioning to the crowd's favorite and newly crowned hit, "Cruel Summer."
It's difficult to say whether there was a downside to either show. There were some lulls in between Beyonce's sets, but the outfit changes she underwent, compared to Taylor's, were the reason for that. Both crowds buzzed and vibed to the music playing during the downtime, everyone still excited and waiting in anticipation for what was coming next. With Taylor there was not as much time to catch a breather, so the concert felt more continuous and streamlined throughout.
Taylor's stage was grander, giving everyone a better overall view of the concert. I was not as impressed with Beyoncé's stage, although I was sitting off to the side with a limited view. I had a similar seat in L.A., but Taylor had a side viewing screen, while Beyoncé did not. That may have been due to the different stadiums themselves, but could have been part of the touring stages.
One thing for certain is how fun both concerts were. The choreography, music, lights, smoke and fire were all captivating, and I loved how brightly the artists were lit up during their entire performances. Beyoncé's dancing, and her dancers, were incredible—and no one missed a beat. Blue Ivy coming out to perform with her mom on stage was such a sweet touch and so entertaining for the audience to watch. Taylor's performers also seemed to be having the time of their lives, radiating what we all felt.
That said, just being at these concerts this summer was something I had never experienced before. The energy coming from the fans was special and unique. The amount of time these fans put into finding tickets, booking hotels and flights, and getting ready to celebrate one night with the artist they love, was magic. Seeing the fans' outfits, dancing and bracelets, and every person singing along to all of the lyrics and runs, was a sight to witness.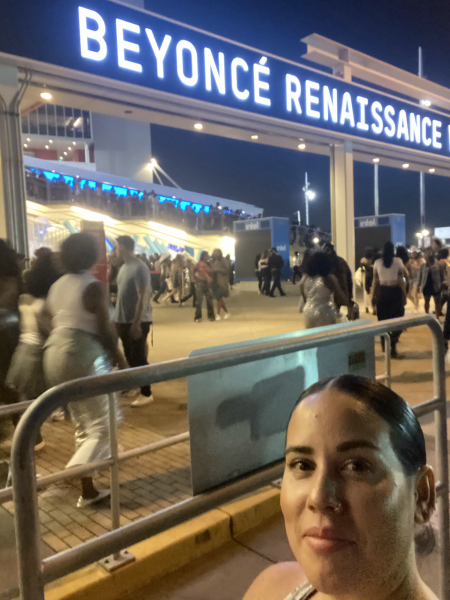 What I loved most was how much fun each artist seemed to have and how much they enjoyed being on tour. Beyoncé celebrated her newly crowned title as Mayor for the Day in the city of Santa Clara, giving all the love to fans who came with signs — telling people how beautiful they looked, giving special birthday shout-outs and continuously throwing out "I love you's" throughout the night. Taylor gave off similar energy but engaged fans more with looks, waves and winks.
These queens have shaken up the music industry in incredible ways and I see them continuing to do so in the future. It was just announced that Beyoncé broke the record for July and August by being the top female touring artist, earning $461.2 million from her shows, while Taylor's Eras tour just released dates for its concert film, which will be released Oct. 13, and broke records with $26 million in presale tickets.
There's no denying that these two artists know how to put on a good show. I highly recommend catching them if you can!