Preview: SRJC Theatre Arts presents "All the Great Books"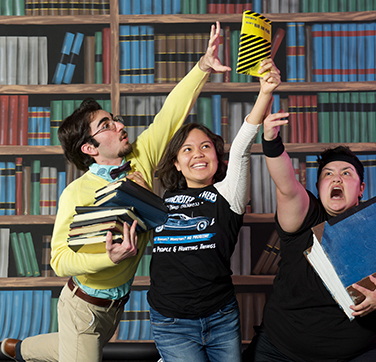 The Santa Rosa Junior College theatre arts department will stage an abridged production of "All the Great Books" this March, a show The Washington Post described as English class meets Monty Python.
The play is a brief and comedic rendition of the works of legendary literature figures and thinkers such as Confucius, Henry David Thoreau, Jonathan Swift and more. It's described as a "literary canon that explodes" as director and playwright Reed Martin and the cast take audiences through a 98-minute abridged version of the original play.
Martin, director and managing partner of the Reduced Shakespeare Company (RSC), adapted the hit to be performed by an ensemble of just 12 SRJC theatre arts students. Martin is a veteran author, playwright and director with accolades including performing at the White House twice and on all major television networks and serving as the assistant ringmaster with Ringling Brothers' Barnum & Bailey Circus for two years.  
Members of the cast include Christopher Shayota, a graduate of Technology High School in Rohnert Park, as the professor. "I scored a five on the AP literature exam and was an English major for about two months, so I'd say I'm pretty qualified for this show."
Jasmine Flores-Nunez, a student at Roseland University, plays the student teacher. "When assigned a long, boring book, I look for explanations and summaries like the ones in this show," she said.
The show is appropriate for ages 13 and up.
Show dates start on March 8 and extend until March 17.