What does a safety pin have to do with Donald Trump?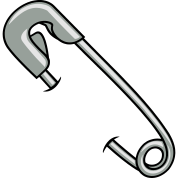 Santa Rosa Junior College staff and students are wearing safety pins on their clothes to support the community in the wake of Donald Trump's election win.
This idea of wearing a safety pin was shared in a mass email to SRJC staff on Oct. 9 by Emily Schmidt, an adjunct instructor of philosophy and religious studies. The safety pin symbolizes inclusiveness and reaffirms the wearer's support of minority groups.
Safety pins became a symbol of acceptance during last summer's Brexit vote in Great Britain. They were introduced by activists who sought to offer a gesture of hope and support in the wake of xenophobic sentiment during the hotly contested vote.
Schmidt explained that she had twitter followers in Britain who posted about the safety pin movement. "As someone who is a white woman from a middle class family, [I have] somewhere to mark and identify to people in Sonoma County that I support the full range of minorities in the community, and respect and enjoy the diversity in America. I don't want to lose that."
SRJC community members can pick up free safety pins at a few different campus locations, including the Oak Leaf newspaper offices in Analy Village. Text 510-459-8462 on Tuesdays and Thursdays between noon and 4 p.m.