Editorial May 11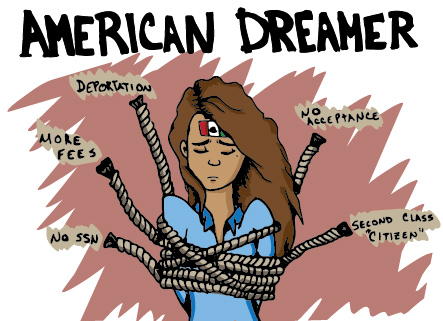 When Governor Jerry Brown signed the California DREAM Act in 2011, it was a step forward for the U.S. in terms of immigration reform. In 2012, the Obama Administration enacted Deferred Action, designed to give children of immigrants a temporary stay in U.S. as long as they had no prior felonies and attended school or were honorably discharged from the military. Four years later, these acts are not enough to sustain the vast majority of immigrants in this country.
That's not to say it wasn't a great start. In March 204, an estimated 673,417 young people have applied to DACA and 553,197 have been approved. DACA made it easier for beneficiaries to get new jobs and many have increased their earnings by 45 percent. 57 percent of those now hold a valid drivers license and almost half opened their first bank account. DACA's impact on the U.S. economy holds many benefits but it must progress further.
The hurdles that go into applying for the DACA are too much for many students and the waiting period can stretch from weeks to months before hearing confirmation from the government. Children should not have to live in fear of being denied citizenship for extended periods of time or having their conditional status taken away.
Many schools have made strides in accepting the children of the DREAM Act. Last Week, Santa Rosa Junior College opened the Dream Center, a place where undocumented students can get support for their college experience. It is a progressive step forward. Of course, to be eligible for admission to SRJC, students must have applied for or plan to apply for DACA.
The question that arises when talking about the legality of these acts is why make innocent young people jump through hoops to attain citizenship? Sending a child back to another country or denying them grants and scholarships because they had no choice in coming here at a young age alienates the rights of human being.
And what about the parents of those children approved for DACA and the DREAM Act? At the moment, the law will take a sympathetic look at certain cases, but there is still no way to get a proper hearing for the parents. These are people who serve in and contribute to the communities they live in, but may have to leave their children if they are deported.
We need that will allow children and families to live without fear of deportation. These are hard-working Americans who strengthen the economy and the country, who pay taxes and want nothing more than to build a better future for their families. Why would anyone turn them away? It is time for action- waiting is no longer an option.
Recently, in a conversation with DREAMers at a round table discussion, Hilary Clinton talked about what differentiates her from the Republican Party and her stance on the immigration reform. She strongly believes government must make a clear path for people to attain permanent citizenship, something many Republicans are against. Republicans call the DREAMers "legal status" into question," which Clinton said was another way of saying "second-class status." She said she wants to fight for the rights of these people and stop the risk of deportation, and if Congress tries to stop it, as president she will go further to help these families stay.
One likely Republican opponent of Clinton's, Ted Cruz, is openly against immigration reform, stating that Obama's directive to exempt some immigrants is "illegal." He sees it as a slight against those who have waited to become citizens legally. Cruz also opposes the DREAM Act and wants to take a more conservative approach to immigrants getting citizenships.
The upcoming 2016 presidential elections don't be surprised to see a focus on immigration reform and the rights of DREAMers. Clinton's stance on immigration reform is what this country needs. Clinton needs to stand up for the rights of these potential citizens and do away with the idea of them being second-class, so immigrant students can live their lives without fear and alienation from others. The future of the children and this country depends on it.