SRJC Theatre Preview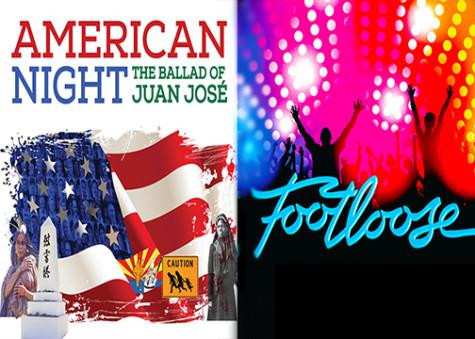 Auditions commenced as Santa Rosa Junior College's Theatre Arts Department opens up their curtains this spring semester with upcoming productions including a unique comedy, musical and dance show.
Starting on March 6, SRJC brings the original piece "American Night: The Ballad of Juan José," written by Richard Montoya. The production is a satirical comedy that portrays a young immigrant named Juan José, played by Marcos Rivas Sanchez, who mistakenly falls asleep while studying for his citizenship test. During his slumber he finds himself among historical and pop culture figures like Sacagawea and Bob Dylan who give him life advice. Theatre faculty member Reed Martin is head director.
Theatre Arts Department Chair, Leslie McCauley, said, "The show really takes a stab at everything, but it is making a point about where immigrants stand in the relationship to the United States and our past."
Following the "American Night" production is "Footloose," directed by Wendy Wisely. "Footloose" focuses on Ren McCormick, played by the returning actor Erin Galloway, a new resident in a town that bans dancing, parties and Rock 'n' Roll music. Ren chooses to teach the town how to become "footloose" and aims to lift the ban. The SRJC Theatre Department decided to base it on the 1984 Kevin Bacon film instead of the recent 2011 variation.
"Footloose is an amazing dance show and Lara Branen-Ahumada's choreography is going to be absolutely amazing. We will also have a live rock band," McCauley said. "We've got wonderful design teams on both shows."
To conclude the semester, the theatre hosts the "Spring Dance Show 2015" in collaboration with the Department of Kinesiology, Dance and Athletics. The dance show begins May 8-10.
"'The Spring Dance' show is always very exciting; it's a collection of many different dance styles from modern to jazz to hip-hop," McCauley said.
The ticket price for each production ranges from $10-22 and will be offered to SRJC associated students with the CubCard Plus gets in for free. Visit www.santarosa.edu/theatrearts/index.html for more information.