Contemporary artists give perspective to everyday items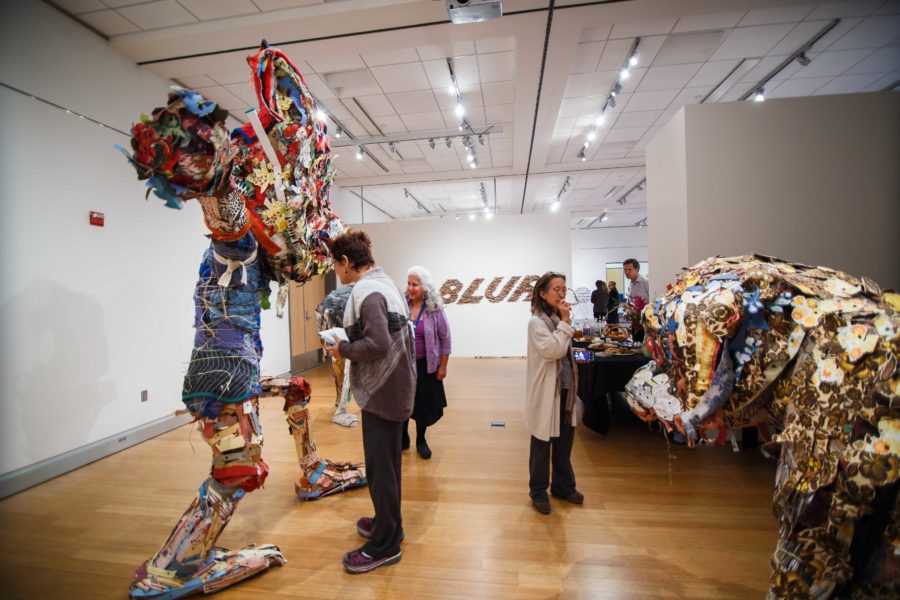 The pieces in the new Santa Rosa Junior College art exhibit "Making Special" are all made from simple, everyday objects that  are often discarded. The gallery's contemporary artists transform the ordinary matter into objects of wonder and mystery.
One of the first pieces in the entrance is an enclosed glass dome with little bees that are crocheted completely around with yellow-dyed thread. Yes, real honey bees. The artist is Esther Traugot, who received an AA in fine arts at SRJC in 2002.
She said her work is about taking objects of nature and attempting to put back what has been broken.
On a wall in the second room you will see 144 black sticks of different shapes and sizes aligned in a perfect grid against the white wall. Artist Gygongy Laky says the sticks are like a language, a symbolic system that could mean something. She got the sticks from a neighbor who kept trimming his trees and throwing the sticks away before she asked for them. It wasn't right the first time though; she says she had a few different patterns before she got it just right.
Another one of Laky's pieces was a question mark on the wall made from little toy army men. "I'm a pacifist, very anti-war," Laky said. Laky said the meaning of the work could be a question mark of why we are at war, but she doesn't even know entirely what she means when she creates pieces, or what it will mean to people. "It's good when there are questions still remaining," Laky said.
She is influenced by environmental causes and architecture. "All of my dreams are in architecture. I know that motivates me," Laky said.
Another intriguing work is three oddly shaped silver ovals on the ground. The artist Sandra Ono, the youngest artist in the exhibit, made them out of tin foil and glue. The piece next to it, a complex brown wavy square, is made of only rubber bands and glue.
Hanging from the ceiling is a geodesic sphere made of 270 used hack saw pieces. The artist, Clint Imboden, said he enjoys using found and reacquired objects so he goes to the flea market four to five times a week. The way it is set up has a light shining on it that casts a beautiful pattern on the floor. There are also two other smaller spheres from Imboden in the gallery.
Curator Gina Telcocci said all the works and materials blend together well, all of them using "cruddy, recycled or organic materials. I am trying to get my aesthetic point across," Telcocci said.
"It's about respect for what's in the world; what's in it, even if it's from the trash heap," Laky said.
"Making Special" is on display in the Robert F. Agrella Art Gallery on the first floor of the Doyle library. It opened Nov. 13 and will run through Dec. 12.