The soon-to-be dedicated Robert F. Agrella Gallery is currently showing "Japanese Ceramics" and contains pieces from the contemporary Japanese ceramics scene, including several pieces by Japanese women who were not allowed to be ceramic artists until recently.
The exhibit contains 32 select works by 28 artists and comes from the collection of William Bayer. In addition to his other ceramic pieces, Bayer has been collecting works from Japan for the last 15 years.
Bayer's excitement is evident when asked about the works on display, as well as other types of pottery and ceramics.
Bayer said that the exhibit almost exclusively contains contemporary works from the past 15 years and has unusual pieces for a traditional Japanese ceramics show. He explained that until the last 25 years or so, women were not allowed to be ceramic artists.
The Bayer collection has several pieces by female artists on display, including Sakurai Yasuko's "Oval Vertical #3—Light and Shadow," a delicate structure with tubular holes riddling the egg shaped piece, turning it into an elegant web. It was created in a very complicated process wholly invented by the artist.
The rest of the works in the gallery are an interesting mix, many of them pieces that could have started with the idea of a vase, plate, box, container or some other form and then transformed into a abstract piece of art.
SRJC student Doug Campbell said, "I am not sure if it is art for arts sake or a container."
Opposite these pieces there are a number of others without function.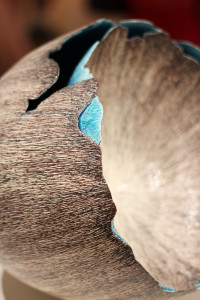 No less beautiful, several of these pieces evoke an image of a waterfall, a road or a fragile paper construction.
In the back of the gallery is "The Fire Artist, a documentary on Shiho Kanzaki" playing on repeat. The 40-minute documentary is about a leading figure in the pottery world who openly shares his techniques
and teaches many people.
The exhibit is in the Agrella gallery in the first floor of the Doyle Library and will run through Oct. 11.
For more information, please visit http://www.santarosa.edu/art-gallery