Stafford made highest paid player in NFL history despite no playoff wins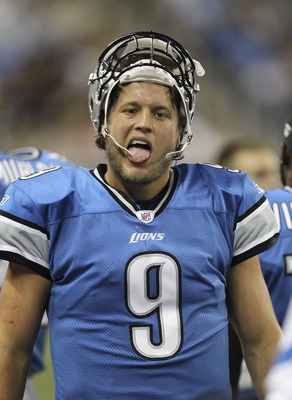 The Detroit Lions just made a terrible mistake and grossly overpaid Matthew Stafford.
Stafford signed a five-year $151 million contract extension on Aug. 28 which puts him at $27 million a year roughly, making him the highest paid player in NFL history.
Don't forget this is a guy who has never won a playoff game in three appearances in eight seasons and has never had a season where he was top five in quarter back rating. Guys like Tom Brady or Aaron Rodgers are only getting paid $20-22 million a year and unlike Stafford these guys have actually put their money where their mouth is with. Brady won his 5th super bowl this past season and Rodgers ran the table and made it to the NFC championship before losing to the MVP Matt Ryan and the Atlanta Falcons.
Now, I understand the NFL is a quarterback driven league and teams tend to overpay for an average QB because they think they can't find another one.
Also, Lions offense utilizes Stafford's strong arm and  their lack of a prominent running game  forces the Lions to rely on Stafford's arm in their pass-heavy offense. That's why he's averaged 278 passing yards per game over his career, but that's not hard to do that when you average 40 passing attempts a game.
Not to mention having a receiver like Calvin Johnson or better known as "Megatron," a player who will be on the Hall of Fame and make an average QB.
Lately Stafford has performed better, but even his best season—last year—isn't worth the money he is getting paid. Especially when there are 52 other players who need pay.
With Stafford you already know what he brings to the table and that's a QB with a big arm but lots of interceptions and doesn't have that x-factor.
Some might argue he has the most fourth quarter comebacks, of all active quarterbacks, but to me I see that as a deceiving statistic because of his risk taking and poor performance in the first three quarters he forces his team to mount amazing comebacks in order to win.
When you get to the playoffs you do not want to be playing from behind. In Stafford's three playoffs appearances he has thrown four touchdowns and three interceptions. Even when he is given the chance to prove himself, he just can't manage to pull through.