Bear Cubs wins seventh match in a row after defeating San Joaquin Delta College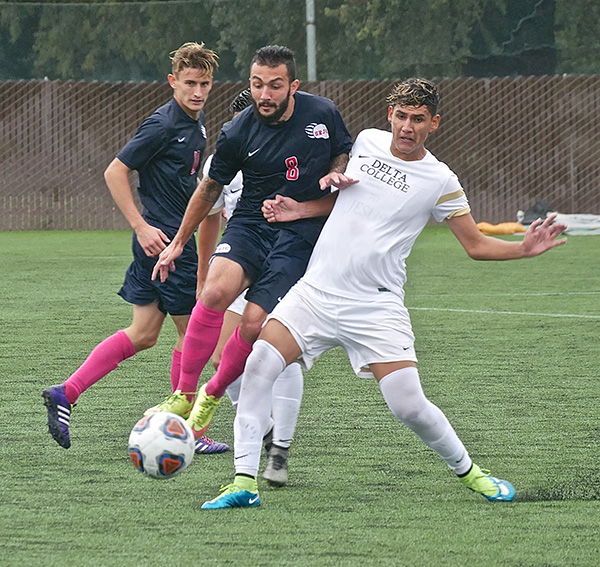 Tom Rivas, Assistant Sports Editor
October 29, 2016
Santa Rosa Junior College came out on top and beat San Joaquin Delta College 3-1 after being down one man due to an early penalty on Oct. 28.
Ivan Barajas of the Bear Cubs received a red card and was ejected in the first 5 minutes.
"The ball was in the air and I went to kick it," Barajas said. "He put his head down, I kicked him in the face. I felt bad because I didn't intend to do it."
This left the Bear Cubs without a player for the rest of the game.
"I've never seen a red card that early in the game," said head coach Marty Kinahan. "Eighty five minutes is a long time to play without one of your players."
Delta had the advantage and forced the Bear Cubs' defensive to play twice as hard.
"There was a lot of running around because we were down a man," said Chris Ochoa. "We had to wait for our chances then take advantage when the time was right."
Nine minutes into the first half the Bear Cubs seized an opportunity and with an assist from Henrique Noujeimi, Ochoa was able to send the ball into Deltas net.
"We knew we had to turn it up a notch being down one player," Ochoa said. "We had to work twice as hard and not give up."
Delta stepped up their intensity and pushed the ball towards their goal. With 32 minutes into the first half Enriqui Aguilar of Delta tied the game 1-1.
"Obviously they had a lot of time with the ball being we were down one man," said Wilson Briggs. "We just had to be patient and play smarter."
The Bear Cubs scrambled on defensive trying to protect Delta from scoring.
With less than 5 minutes to go in the first half, Ochoa found another opportunity and scored giving SRJC a 2-1 lead.
"In the second half we came out with an idea that we could sit a little and absorb some pressure," Kinahan said. "It wasn't working, things became to stagnant and we had to change things up."
In the beginning od the second half Delta received a penalty kick and had an opportunity to tie the game but Bear Cubs goalie Oscar Hjern made an outstanding save preventing Delta from scoring.
"I looked at the guy and tried to read him," said Hjern. "He opened up his body way too much to put it into the left corner so I went right and stopped him from scoring."
This gave the Bear Cubs the momentum they needed to take back control of the game. With less than 15 minutes remaining in the game Ochoa, for the third time, put the ball in the net giving the Bear Cubs a 3-1 lead.
As the clock ran down both teams played hard till the whistle blew. Despite being down a man almost the entire game the Bear Cubs pulled of their 7th straight win keeping them in first place in their division.
"What carried the team today was Chris Ochoa and Wilson Briggs," said Kinahan. "Their probably the two best combination players, as far as two strikers, I've ever had in 19 years I've coached."
The Bear Cubs will face American River College Lake at home on Nov. 8.