Water Polo starts off a little below water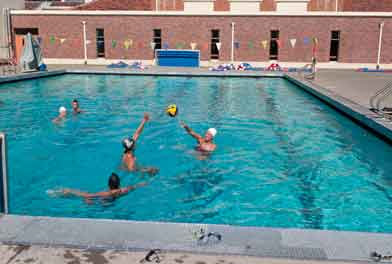 As the hot summer months give way to the iridescent hues of autumn, the Santa Rosa Junior College water polo teams head home from an extended road trip with room to improve. Both teams struggled out of the gate, but righted themselves to climb back towards .500.
A hectic game schedule may have contributed to the early struggles, as the teams played multiple doubleheaders over each weekend. The women opened the season at American River College, playing in the Rage tournament in Sacramento. Some of the best Southern California teams made the trip to the state capital, including defending state champions Golden West College. It was a challenging start, with the Bear Cubs losing their first four games. Fortunately the team didn't have to wait long to collect its first win of the season, topping conference rivals Sacramento City College 20-7 in emphatic fashion during a midweek faceoff.
The next weekend provided a stage for more Bear Cub redemption. During a tournament at Los Altos' Foothill College the women captured two wins, including a thrilling overtime victory over San Mateo, who the Bear Cubs will meet two more times this season.
Not to be outdone, the men also shrugged off several early losses to claim big wins during their first two tournament weekends. After opening the season with a trip to Valley West College in Saratoga, an endeavor that yielded just a single win in three games; with the lone win being a 19-3 drubbing of Ohlone College. The Bear Cubs defeated Ohlone College again the following weekend to open up a tournament hosted by San Joaquin Delta College. The Bear Cubs added victories over De Anza College and Las Positas College to lift their overall record to 4-4.
While the water polo teams were on the road, disaster nearly struck at home. An electrical fire broke out in Tauzer Gym, inflicting damages on the pool heating systems and other electrical equipment. While damages were significant, no one was injured in the fire.
As a result of the fire, both the Men's and Women's polo teams were forced to relocated to pools elsewhere in the North Bay, with most practices being held at nearby Ridgeway Swim Center. Other practices were located as far away as Napa and Petaluma.
After a two week hiatus, Tauzer Gym is back in action, its friendly confines a welcome sight for the Water Polo teams as they attempt to fight back into contention with a strong end to the month of September. The Bear Cubs hope to end the month on a high note when they open their home schedule on Sept. 30 against conference foe American River College.
Leave a Comment