Santa Rosa heads to winner-takes-all game versus Sierra College after splitting games 1 and 2
For the Santa Rosa Junior College baseball team, win or go home is the motto they must embrace following two games versus Sierra College in the California Community College Athletic Association (CCCAA) NorCal Regional tournament May 19 and 20.
Game one: Bear Cubs drop first game to Sierra College 9-4 
A five-run inning, including a 3-RBI home run, was too much for the Bear Cubs to overcome. They lost to the Sierra College Wolverines in a 9-4 defeat in the first game of a best-of-three series in the California Community College Athletic Association (CCCAA) NorCal Regional tournament.
It was a rough afternoon for Bear Cubs starting pitcher Evan Johnson, who gave up six runs in a six-inning outing.
Momentum swung immediately into the Wolverine's hands, with leadoff hitter Alex Johnson hitting a triple, followed by teammate Zach Chamizo hitting a single for an early 1-0 lead in the first inning.
The pitching woes for the Bear Cubs continued into the top of the third, with Sierra taking advantage of the situation. With two outs, Chamizo singled to left field and then stole second base. Bear Cubs pitcher Johnson walked the next batter, setting up runners in scoring position for Sierra third baseman Jack Weise, who hit a single to center field to drive in another run.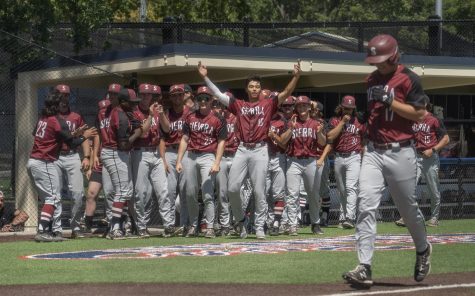 With runners on second and third base following Weise's single, the Sierra dugout was filled with exuberant energy waiting to explode. The Wolverines didn't have to wait long, as first baseman Andrew Paolini launched a ball deep, scoring a three-run homer to increase the score to 5-0.
To add insult to injury for the Bear Cubs, Wolverine Catcher Clayton Coats hit a solo home run immediately following Paolini's home run, causing his fellow teammates to spill chaotically out of the dugout in ​​pandemonium.
Despite the 6-0 deficit, the Bear Cubs didn't give up hope and started to rally in the middle innings. Outfielder Jake McCoy provided the lone highlight of the Bear Cubs offense with a two-run double in the fifth.
Unfortunately, the Bear Cubs' offense ran out of gas, giving up three more runs in the eighth and ninth innings to lose to Sierra 9-4. The Bear Cubs left a near season high of 13 runners on base.
Game two: Bear Cubs win decisively 8-1 to force winner-takes-all game three
Finding themselves facing elimination, the Bear Cubs found their next gear and defeated the Sierra College Wolverines soundly 8-1, forcing a winner-takes-all game 3 in the California Community College Athletic Association (CCCAA) NorCal Regional tournament.
After struggling both offensively and on the mound in Game 1 on Friday, Santa Rosa Junior College bounced back in a big way and put up eight runs on 12 hits. The Bear Cubs had baserunners in all but one inning and put tons of pressure on the Sierra College pitching staff for the duration of the game. They got an early lead off the back of a Ty Blakely sacrifice fly in the top of the second inning and starting pitcher Hekili Robello got out of some early inning trouble, leaving three base runners stranded across the first two frames.
An early solo home run from first baseman Connor Charpiot in the next inning was a welcome sight for the Bear Cubs as he came up empty in a few big spots in Game 1 where he went 0-5 with five runners left on base. Singles by left fielder Bryce Cannon and third baseman Keenan Morris set up another RBI from catcher Ty Blakely. Then a rare balk from Sierra's left handed starting pitcher Jaccob Torres scored another run for SRJC.
Up 4-0 after four innings, the Bear Cubs didn't stop running the base paths. A solo home run to left field by second baseman Joe Brown added another run to the lead. Shortly after, shortstop Aiden Lombardi got in on the action and hit an RBI double to left, scoring Bryce Cannon from first base, which was the third of four total runs scored by Cannon in the game.
In the bottom half of the inning the Wolverines would add a run of their own on a fielder's choice but did no further damage as Heikili Robello was able to pitch around Sierra's dangerous bats.
The Bear Cubs got on the scoreboard again with Cannon adding on an RBI double of his own. Two batters later he would score on a Keenan Morris single to bring the score to 8-1.
All the while Santa Rosa's bats found their form, Hekili Robello pitched a gem, he went all nine innings only giving up one run. He also struck out eight batters and walked none of the 34 Sierra hitters he faced. He kept his composure when runners got on base and worked brilliantly in tough situations. The crowd and the team's support could be heard all game long as they tried to will Robello over the finish line.
This Santa Rosa win brings the best-of-three series to one game a piece. The Bear Cubs look to take the series win in Game 3 at noon May 21 at Sypher Cook Field in Santa Rosa. The winner of the best-of-three series will advance to the next round of the CCCAA state playoffs in Folsom.