McCoy; Charpiot nab playoff win for the Bear Cubs against Cañada College
In the bottom of the eighth with bases loaded, outfielder Jake McCoy eliminated Cañada College from the NorCal Regional playoff tournament with a two-RBI double tightroping the third base line to narrowly stay fair. McCoy's fingerprints were all over the tightly contested 7-5 victory.
"I went up there [to the plate] just trying to score a run," McCoy said. "I looked for something that I could drive and I got it and I did what I needed to do." 
Cañada pitcher Frankie Pellegrini let the game slip through his grasp. With Bear Cubs on first and second base, a wild pitch by Pellegrini let both runners advance and set up the eventual two-run RBI by McCoy. 
Prior to McCoy's game-winning hit, he pitched the top of the eighth and earned the Bear Cubs' lone two strikeouts. 
Not only did McCoy earn the game-winning runs and pitched a clean inning, he made a miraculous throw from deep-right field to save an inning.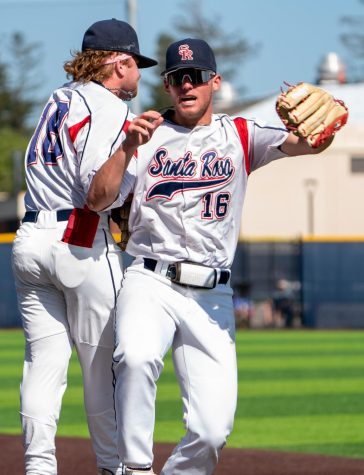 The Bear Cubs managed to hold off a fifth-inning charge from the Colts without allowing any runs. Cañada started to mount a comeback, however a highlight-worthy throw from McCoy from right field to third base ended the inning. 
"I've been waiting to do that all year, there's only been twice all year a guy has run on me. That's all I've wanted all year and when they do they get thrown out," McCoy said.
After an early 4-2 start, the Bear Cubs controlled the momentum and led for the majority of the game until a three-run shot by Cañada flipped the game on its head. The Colts dugout erupted after infielder Owen Crevelt hit the three-run shot to give the Colts the lead.
The moment wasn't too big for Bear Cub outfielder Bryce Cannon. Despite struggling for the duration of the game, Cannon came through when the team needed him the most. Cannon tied the game at five runs a piece with a solo home run sending the Bear Cubs dugout into pandemonium. 
The first two innings the Bear Cubs and Colts sized each other up with a run in each inning. Both teams took advantage of each other's shaky pitching and multiple errors, with nerves being evident early. 
"They played us tight in both games in the regular season," two-way player Connor Charpiot said after pitching a game-closing top of the ninth, "It felt good to come out on the right spot this time."
The Bear Cubs play Reedley College next on Friday, May 12 at 1 p.m. in Santa Rosa.