First Place Bear Cubs take win streak to 7; Shutout American River College in 6-0 game
The Bear Cubs kept rolling on Tuesday, extending their win streak to seven games in a 6-0 shutout win over American River College. Despite the lopsided scoreline, it wasn't all smiles in the Santa Rosa dugout. 
It was a six-run game that felt like it should've been won by 20. In the past few weeks, the Bear Cubs' offense has slowed down considerably as players' pitching and defense have continued to sharpen. 
Another change in recent weeks has been the approach to pitching, specifically when and where pitchers are being asked to pitch. Instead of putting an opener on the mound for the first inning, head coach Damon Neidlinger had right hander Hekili Robello face the first 23 batters of the game. Robello was dominant; he only allowed five baserunners and struck out five batters in his six shutout innings.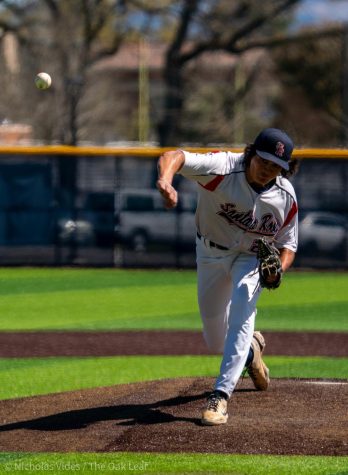 Even with this recent trend of skipping the opener, Neidlinger said it's still something they want to do going forward, citing an injury to their go-to opener Brett Mallett. "I'm still willing to do it, depending on what the matchup is," Neidlinger said. "This would've been Brett's day to open." 
Right away in the bottom of the first inning, the American River starting pitcher struggled with his control and couldn't find the strike zone. Center fielder Alex Leopard walked in the leadoff spot and shortstop Aidan Lombardi hit a home run a couple of pitches later to put Santa Rosa up 2-0. 
The pitching woes for the American River Beavers continued into the bottom of the second. Third baseman Keenan Morris led off the inning with a single, and it went downhill from there. Seven of the next eight pitches were either wild pitches or passed balls. Morris slid into home base after he advanced to each second and third base on three consecutive wild pitches. On the same wild pitch, designated hitter Tyler James was walked to first base.
Much like Morris, James advanced to third base on two more wild pitches. Then after the catcher missed on his throw back to the pitcher, James walked home for another free run in the second, bringing the Bear Cubs' lead to four. 
In the same inning, catcher Ty Blakely hit a single to right field then advanced to second on yet another passed ball. First baseman Connor Charpiot then hit his own single to right field to score Blakely and brought the score to 5-0.
Charpiot stayed hot and hit yet another home run in the fifth inning; he also hit one to roughly the same spot out past the left field fence on Thursday in a 7-1 non conference win over Cabrillo College. 
Neidlinger praised Charpiot's importance to the team with both his bat and his ability to pitch in high leverage situations. "He's got six, seven saves. He's been very good. He's a high leverage guy; when things get tough and the score gets close, he's gonna be in there," he said.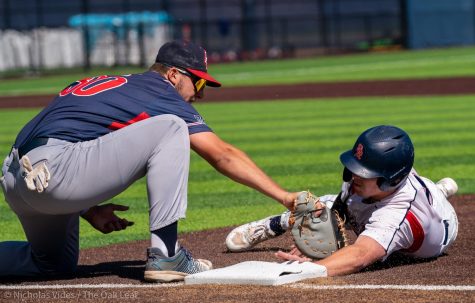 After the fifth, the last four innings of the game flew by. American River pitchers started to find the strike zone and there was a palpable frustration around the Bear Cubs' bench. They left three base runners stranded in the sixth and another in seventh. 
Right-handed relief pitcher Eli Yamanaka came in and shut down the American River offense in the seventh and eighth that kept the shutout intact.However,  there was still a sense of disappointment and a lot of poor body language for the Bear Cubs during the bottom of the eighth where they got out in order and seemed like they wanted to get the game over with. 
Neidlinger stressed the importance of his team's depth and their next-man-up mentality. "You can give all the positive reinforcement you want. Dude's gotta go to the plate and hit the ball hard," he said. "They swing good, they feel good, they don't swing good, even if we win, they don't feel great." He added there are a limited number of opportunities and not a lot of these lineup spots are locked in with full time starters. That much was evident with this game's lineup selection. Tyler James and Keenan Morris got their first starts in a few weeks with a few other players being moved around into different roles. 
Normally playing center field, Alex Leopard was put in to get the final three outs, adding him to the bullpen gives Neidlinger a lot more flexibility with another left hander to bring in to eat up innings. He pitched well and only had to face three batters to close the show. 
The Bear Cubs bring their seven game win streak and first place conference status with them to American River College to play Thursday at 2:30 p.m. They come back home to finish the series with Beavers at 1 p.m. on Saturday.