SRJC Baseball's offensive dominance continues with 21 runs against College of Marin
An eruption on offense and capitalizing off of College of Marin's six errors led to the Bear Cubs scoring their season-high number of runs in a 21-9 victory Feb. 21 at Sypher Field.
After struggling earlier on in the season, the Bear Cubs now sit on a five game winning streak and have won seven of their last eight games. A drastic change to the culture of the team is evident after scoring 21 runs and has the Bear Cubs playing their best ball of the season. 
"The biggest thing is the guys have started to take ownership," head coach Damon Neidlinger said. "They are digging in, playing for each other and playing the right way and you're seeing the benefits of that."
For the players, a culture change occurred. "We don't like losing and we like winning a lot more," catcher Ty Blakely said. "That's the easiest way to put [the change of culture]. Everyone is pretty tired of getting beat by non-competitive teams and here we are being competitive."
Blakely led off the seven-run explosion in the fourth and knew the team would follow his lead. "I just know once one guy gets it started the whole team can get it started, it's as easy as that," He said.
In the bottom of the fourth, the Bear Cubs hit three straight doubles by infielder Joe Brown, first baseman Ian Avalos and outfielder Jake McCoy to take full control of the game. 
The following inning, the Bear Cubs picked up right where they left off scoring five more runs to solidify a massive lead. Outfielder Michael O'Daniel hit a three-run home run that took his total to two on the season. McCoy and pitcher Austin Ehrlicher added two more home runs in later innings.
Avalos, McCoy, Ehrlicher, Blakely and O'Daniel couldn't be stopped the entire game and went 14 for 21 collectively, and hit 14 RBIs between the five of them. 
The highlight of the game came from outfielder Alex Leopard who scored off of three straight errors from Marin's defense. On what should've been a routine groundout for Marin's defense, an overthrow to Marin's first, second and third baseman allowed Leopard to trot across all four bases and earn a rare inside the park home run. 
A bullpen style approach to pitching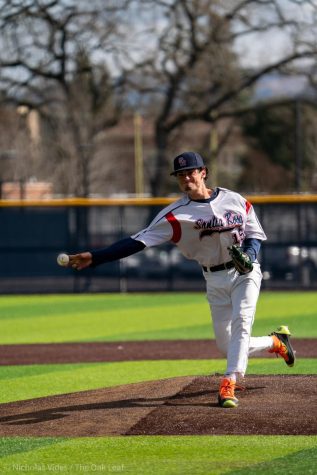 Throughout the season, the Bear Cubs have used an unconventional style to their bullpen rotation because of their ability to have so many two-way players.
"We've got five dual guys that actually play a position and can pitch," Neidlinger said.
This season, the Bear Cubs have started pitching the game with an opener in order to utilize the most out of the two way players. Neidlinger added that by starting with an opener it allows the opposing team to be set up and throws the opposing team off when other pitchers come into the game. 
"I rather my better guy be out there late than early just off this dynamic of this team," Neidlinger said. 
The Bear Cubs used that same approach in their 21-9 win with pitcher Collin Medeiros opening the game. "My role is going to be opening for about six outs, that way I can pitch two to three times a week," Medeiros said. 
In Medeiros' two innings he gave up one home run in the top of the second, but answered right back with three straight strikeouts. "After the home run, it sort of locked me in and was like you just have to throw the ball where they want you to throw it," He said.
Additional reporting by Nick Vides and Christian Vieyra