New interim takes the reins from legendary head coach Jake Fitzpatrick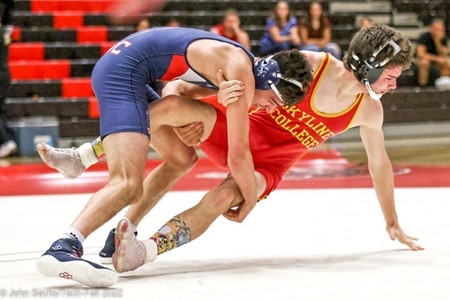 It's the opportunity of a lifetime for Santa Rosa Junior College interim wrestling head coach Fred Duerr. For 37 years Jake Fitzpatrick held the reins but called it a career after the 2021 season, and now there's a new man in charge.
Duerr, entering his seventh season coaching at SRJC, started his career at Montgomery High School and always knew he wanted to be in the exercise-teaching field. He spent seven years at Montgomery before resigning due to scheduling conflicts. Fitzpatrick brought Duerr onto his staff as a volunteer assistant for a year then offered Duerr a deal as a paid assistant for six years. 
Coach Duerr was a "bit shell-shocked" when he first heard the JC promoted him to head coach. It felt "surreal," too good to be true. Duerr believes the athletics Santa Rosa Junior College has on campus are "top-notch in the country." 
Duerr, admits he has "big shoes to fill" thanks to Fitzpatrick's Hall of Fame resume, thinks he'd be doing "okay" if he can accomplish half of what Fitzpatrick has done. 
The interview process was a bit easier this time around than when Duerr was a newcomer to the program. His long-term goal is to remove the "interim" tag and be the full-time guy. The framework of Fitzgerlad's program will remain but Duerr will build his own culture. 
Duerr admits this will be a rebuilding year but still has high expectations for his wrestlers.
There's a couple young talents who excite Duerr including Javante Gregoire at 197 pounds, Frankie Pomalia IV and Leilani Frazier, one of three women wrestlers on the roster. Heavyweight All-American Jacob Larsen is returning this year but will redshirting.