Bear Cubs' offense erupts in the fifth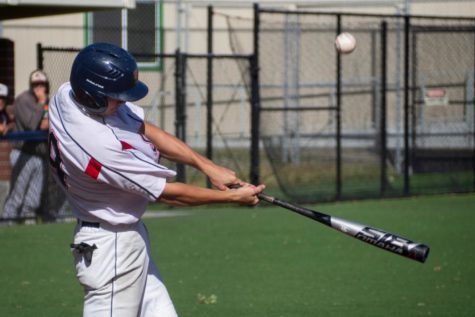 After battling out of a few tough innings, the Santa Rosa Junior College baseball team's offense exploded in the fifth leading the Bear Cubs to a 13-2 win over Monterey Peninsula College April 11 in Santa Rosa.
Santa Rosa (26-8 overall, 13-5 conference) started off the two-game series on Tuesday with an 8-2 loss to the Lobos but made their comeback on Thursday.
"We lost because we did not play with focus. 11 BB's, two errors and four hits is unacceptable. I told them 'to say this was bad baseball would be an understatement. Don't allow one bad game define your ability. Never doubt how good you are!,'" said Santa Rosa assistant coach Tom Francois. "Sometimes we just need a wakeup call and that loss on Tuesday was it"
The Bear Cubs' starting pitcher Shane O'Malley pitched strong throughout the first seven innings, which kept Santa Rosa's crowd cheering and lively.
After the Bear cubs scored two runs in the first inning, both Santa Rosa and the Lobos' offense were stagnant until the fourth inning where Monterey scored on a double at the top of the fourth and Santa Rosa answered back to take a 4-2 lead.
It all really came together for the Bear Cubs in the top of the fifth. Santa Rosa's batting lineup started back at the top and the Bear Cubs' Lawson Faria, leadoff hitter and middle infielder, scored on a double.
Santa Rosa's batters scored a total of seven points from multiple RBI's and a wild pitch that advanced runners. The Bear Cubs ultimately exited the fifth inning with a 11-2 lead.
After walking three hitters, the Lobos made a pitching change to Ryan Platero.
The Bear cubs displayed immense team chemistry in Thursday's game, pushing them to an overall 13-3 victory after scoring two more runs in the eight inning.
"This is a very special group of young guys. I've been here nine plus years and I've only seen chemistry like this twice. They are always fighting for the next guy in the lineup! They are absolute grinders and great teammates," Francois said.
Santa Rosa will remain at home for the start of a three-game series against Sacramento City College April 16.