Santa Rosa Junior College track and field preview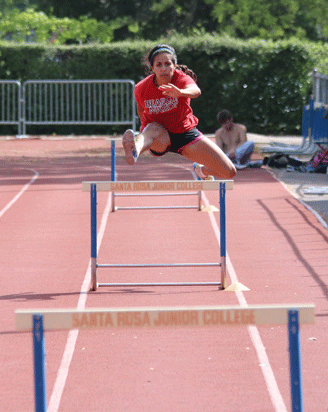 Following a successful 2018 season, the Santa Rosa Junior College track and field team is looking forward to a promising 2019 season filled with many hopefuls, potential standouts and state title aspirations.
Head coach David Wellman leads the Bear Cubs who are looking to improve on a 2018 season that saw numerous players place top 30 in their respective events. The 30 include sophomore Justin Thurman who placed fourth in the 800-meter run at the 2018 Northern California Championships and sophomore Destiney Williams who placed second in the 400-meter dash at the California Community College Athletic Association State Championships.
With both no longer on the team, it's up to the next SRJC athletes to fill their shoes.
"We have a great group this year. They have put a lot of work in over the fall and leading up to the first meet.  I think that we will be able to make some headway this year," Wellman said.
This year, in comparison to seasons past, the Bear Cubs have a more balanced team.
"This year the talent is spread a lot more evenly.  In the past we have either been heavy in one or two events, but this year we have a decent amount of talent across the board," said Wellman.
Athletes to look for this season include, Taylor Horton, Jaimie Flores, Assata Polk and Francisca Theodore on the sprint team, who, according to Wellman, should make "big moves" in the relays.
SRJC has served as a springboard for many student athletes to transfer to a four-year university and the Bear Cubs look to continue this trend following last season's transfers.
"Last year we had four athletes transfer to compete at the four-year level. Three of those that transferred received an athletic scholarship. We have a number of athletes that are on track to move on.  One athlete has already signed with a team," Wellman said.
Concerns for this season involve the current construction of the football field which also acts as the team's practice area.
"It's a struggle to train off campus this year since our track is under construction, but the student-athletes seem to have responded well," Wellman said.
Due to the maintenance, there will be no home meets for Santa Rosa this season.
The Bear Cubs open their season 2 p.m. on Friday at the DVC Invitational in Martinez.