Bear Cubs extend winning streak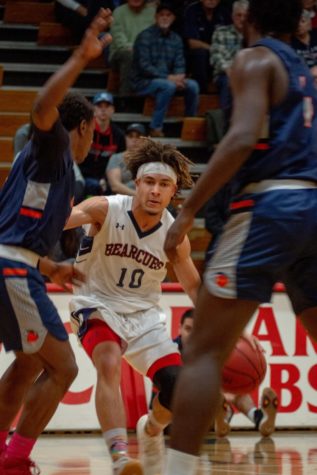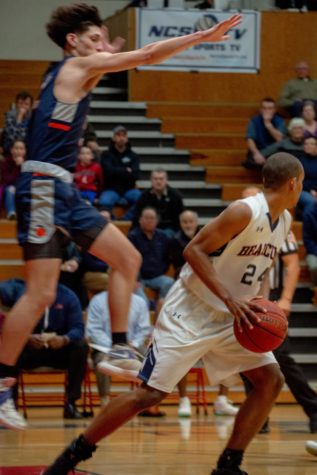 A huge performance from the Bear Cubs' sophomore forward led to Santa Rosa Junior College men's basketball team's 91-77 win over Consumnes River College Friday night in Santa Rosa.
Skylar Chavez dominated with 45 points in Santa Rosa's (18-6 overall, 9-3 Bay 8) third straight conference win to put the Bear Cubs at a huge advantage. Chavez has averaged nearly 30 points per game, shot 52.7 percent from the field and 40.6 from beyond the arc this season.
Despite the play of Chavez, Santa Rosa came into the game weary after losing to the Hawkeyes (13-12 overall, 8-5 Big 8) in early January, and expected for Consumnes to fight back no matter what the score was.
"Last game we had a big lead, and [Consumnes] came back and won. Our guys didn't want that to happen so that's what kept us motivated," Santa Rosa coach Craig McMillan said.
Bear Cubs' freshman guard Damian Wallace and Chavez both believed that they lost the lead in the previous game with the Hawkeyes and being at home helped keep them on track.
"We gave up an 18-point lead last time, so we watched a lot of film of the last game, to see what we had to do to win at home," Chavez said.  
The Bear Cubs held the lead throughout the game and although the Hawkeyes were close to making a comeback in the first half—ultimately they fell short.
Consumnes got into early foul trouble in the first half, which caused them to play harder but more reckless. Santa Rosa  took advantage of the early mistakes by hitting a perfect 13 out of 13 free throws to start the game.
In the last 10 minutes of the first half Consumes strived for a comeback but the Bear Cubs held on and went into the second half with a 48-35 lead.
Although the Hawkeyes double-teamed and pressured him, Chavez shot over 40-percent from beyond the arc, and with the help of his teammates like Wallace, who had eight assists in the win, drove to the basket well in the second half.
Despite the high scoring, Santa Rosa snagged the 91-77 victory.
The Bear Cubs look to keep this momentum going for the last couple games of the season by not only relying on offense.
"Defense set the tone. If we play hard defensively and we play smart, we will be able to play pretty well," McMillan said.
The Bear Cubs look to continue their win streak as they go on the road taking on Sierra College at 7:30 p.m. Tuesday in Rocklin.