Bear Cubs win first Big 8 title in 39 years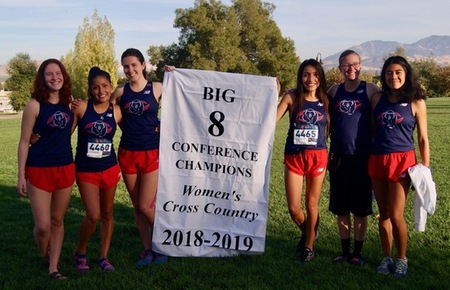 Santa Rosa Junior College Women's cross country team won the Big 8 Championship yesterday after going into the tournament ranked #3 in Norcal and #12 in the state.
Santa Rosa did not go into the tournament as the favorite to win, but the women looked to make their mark and they did. This was the first conference championship for the women's team since 1979.
It didn't look like the Bear Cubs were going to come out on top in the beginning. Santa Rosa was in a tight race with contending conference opponent Sierra College and there was no clear top-dog.
SRJC's Ana Palafox was in control to start the race and snaked through the pack to put herself in fourth place at mile two. She would end the race at a 20:26 time in a tough 5k course. Evelin Ramirez and Jackie Ramirez followed Palafox shortly after and the pair ended in 9th and 12th place respectively.
Santa Rosa and Sierra College would go on to end the race at 52 points each, forcing the CCCAA to enact its rules on a tiebreaker.
The two spots placed by both Ramierez runners proved to be the deciding factor in this tie breaker as the Wolverines finishers placed one spot behind the SRJC's runners.
This barn burner of a meet, aside from the fact of a close finish, would wind up being the most impressive in recent memory for Santa Rosa. This is the first Conference Championship for the Bear Cubs since the formation of the Big 8 conference in 2007 and the first overall conference title for Santa Rosa women's cross country in 39 years.
The Bear Cubs look to re-write the history books again this weekend when they compete next weekend at the Norcal Championships in Redding.