If I love them, you'll love them: Iconic sports movies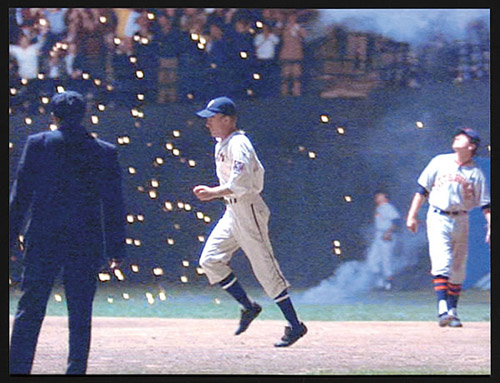 Recently, I dug into my old DVD box to find some of my most beloved sports movies. Here are some of my favorites.
Baseball: "The Natural" (1984)
 Roy Hobbs, played by Robert Redford, is a great pitcher who gets shot and converts to hitting after a number of years. He plays for the long suffering New York Knights baseball team. The movie is shot beautifully by Caleb Deschanel. The iconic score is some of Randy Newman's best work. Barry Levinson directed the classic, and Glenn Close stars in a prominent role.
Football: "The Longest Yard" (1974)
This Robert Aldrich classic stars Burt Reynolds as Paul Crew, an NFL superstar-turned-convict. Crew, along with a ragtag group of prisoners, takes on the prison guards in a high octane affair. The prisoners build a team known as "The Mean Machine." The late Reynolds nails the role and leads the lovable losers in one of the most heartwarming sports movies ever made.
 Hockey: "Slap Shot" (1977)
 George Roy Hill directs this classic. Paul Newman stars as the captain of a struggling minor league hockey team, the Charlestown Chiefs. This is another "lovable losers" story, written by Nancy Dowd. It's sure to bring laughs, even to this day.
Golf: "Caddyshack" (1980)
This Harold Ramis classic is more goof than golf. It stars Bill Murray, Chevy Chase, Ted Knight and Rodney Dangerfield. Kenny Loggins sets the tone music-wise with an up-tempo, goofy score. Murray's performance as the groundskeeper is nothing but iconic.
 Boxing: "Rocky" (1976)
John D. Alvidsen directs this Best Picture winner. Sylvester Stallone stars as Rocky Balboa, an underdog boxer who takes on Apollo Creed (Carl Weathers) in a prize fight. The story and acting are great, while Bill Conti's soundtrack is unforgettable. Stallone made three sequels, and none touch the originality and charm of the first.
 Basketball: "Hoosiers" (1986)
Gene Hackman stars as a demoted coach who is asked to lead a small town basketball team in Milan, Indiana. Dennis Hopper plays an alcoholic father of one of the players. It's the charming true story of brotherhood and fighting through adversity on the basketball court.
Pool: "The Hustler" (1961)
Paul Newman makes his second appearance on my list in this Robert Rossen film.  Newman plays Fast Eddie Felson, maybe the best pool player in the world. Jackie Gleason stars opposite Newman as Minnesota Fats. They meet at a dingy pool hall in Ames, Iowa. The film is wonderful on all counts, and Newman could have won an Oscar for his role.
Track: "Chariots of Fire" (1981)
Hugh Hudson's second feature film won Best Picture, thanks to an iconic score and wonderful performances by Ben Cross and Nicholas Farrell. It's the story of two Brits competing in the 1924 Olympics in Paris.
Agree with my list? Disagree? Let me know in the comments!