2018 NFL mock draft: Top 10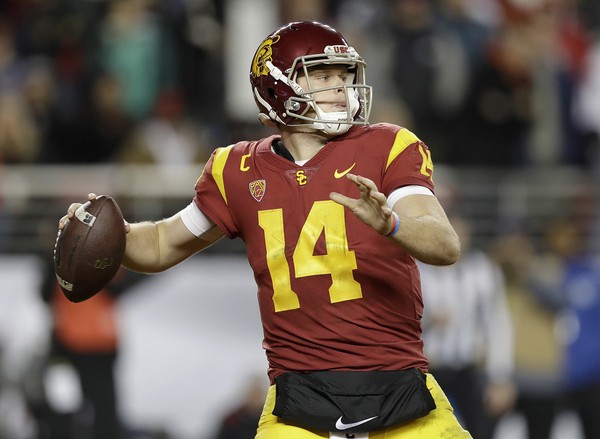 2018 NFL Mock Draft: Top 10
The 2018 NFL draft is just four weeks away. Let's take a look at which 10 players' names  will get called first and have the most pressure to perform.
Cleveland Browns: Sam Darnold, QB, USC
The Browns acquired quarterback Tyrod Taylor in a trade with the Buffalo Bills this offseason. Taylor can serve as a perfect mentor and bridge quarterback until Darnold is ready to step in and take over.
New York Giants: Bradley Chubb, DE, N.C. State
The Giants recently unloaded star edge-rusher Jason Pierre-Paul to the Tampa Bay Buccaneers.  Chubb has the perfect strength and length at 6 feet 4 inches and 276 lbs. to immediately make an impact at the next level and fill a huge hole for New York.
New York Jets, via Indianapolis Colts: Baker Mayfield, QB, Oklahoma
Although the Jets resigned soon-to-be 39-year-old quarterback Josh McCown and signed Teddy Bridgewater from the Minnesota Vikings, they still need a franchise QB. Mayfield can be their answer, defined by his fiery demeanor and competitiveness.
Cleveland Browns, via Houston Texans: Saquon Barkley, RB, Penn State
From a physical standpoint, Saquon Barkley is just about unrivaled at his position. He's got tremendous size and strength, amd ran a blistering 4.40 40-yard dash at the NFL Combine. Pairing him with Darnold in the backfield for the future would be an exciting prospect for Cleveland fans.
Denver Broncos: Josh Rosen, QB, UCLA
Denver Broncos' general manager John Elway is going to get his team a franchise quarterback in the first round, and Rosen will be his man. They have a connection to each other, as they both played QB at PAC-12 schools. Elway played four years at Stanford from 1979-1982. Rosen can start right away in Denver as they try and get back to the winning culture their fans have come to know.
Indianapolis Colts, via New York Jets: Quenton Nelson, G, Notre Dame
The Colts' primary focus should be keeping their superstar quarterback Andrew Luck healthy. The best way to solve that problem is by bolstering up a weak offensive line. They gave up an NFL leading 56 sacks last year. The 330 lb. Nelson doesn't solve all their problems, but he would help.
Tampa Bay Buccaneers: Derwin James, DB, Florida State
The Bucs brought Brent Grimes back on a 1-year deal, but they still need bodies in an otherwise young secondary. Derwin James can provide help over the top for third-year corner Vernon Hargreaves, and the addition of Jason Pierre-Paul in the front seven has that defense looking dangerous.
Chicago Bears: Tremaine Edmunds, LB, Virginia Tech
Edmunds is a raw prospect. He will be only 19 on draft night, but he also has plenty of room to grow. Vic Fangio, the Bears defensive coordinator is highly respected, and can help Edmunds grow into himself as a player. The Bears have a history of dominant linebackers, and Edmunds has potential to be the next.
San Francisco 49ers: Minkah Fitzpatrick, DB, Alabama
The 49ers transformed overnight last year into a team with playoff potential after trading for quarterback Jimmy Garoppolo from the New England Patriots. However, they still have holes they need to address before they can make it back to the superbowl. The secondary being one of them. The addition of cornerback Richard Sherman will help, but Minkah Fitzpatrick can step in right away at corner or safety and turn their secondary into a force to be reckoned with.
Oakland Raiders: Denzel Ward, DB, Ohio State
The Raiders allowed the seventh most passing yards-per-game in 2017. They generated only five interceptions, last in the NFL. If Denzel Ward is still on the board when they pick at 10, they would be foolish not to take him. He has an excellent nose for the ball, and ran an impressive 4.32 40-yard-dash at the NFL Combine, which tied for the fastest time among defensive backs.