Top five draft prospects the 49ers should target in the first round
The San Francisco 49ers enjoyed a late season hot streak thanks to the gift they received from the New England Patriots at the week eight trade deadline in the form of quarterback Jimmy Garoppolo. However there was a reason the team started the season 1-10 before Garoppolo took over for the offense.  
The 49ers have immediate needs on both sides of the ball. I'm going to highlight five players the team can target with their first round pick, either nine or ten depending on a coin flip to break a tie, to fill those needs.
Derwin James, SS, Florida State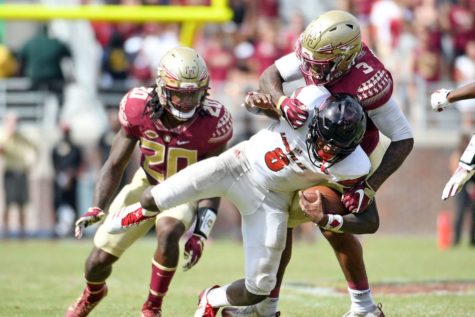 The 49ers know all too well from playing the Seattle Seahawks twice a year how beneficial it is to have a scary enforcer like Kam Chancellor patrolling in between the hashes. Derwin James can provide the Niners with a menacing presence on defense. James is 6 foot 3 inches and his 215-pound-frame is similar to Chancellor's, as is there skill sets. San Francisco's defensive coordinator Robert Saleh spent three years on the Seahawks defensive staff when they won the 2013 Super Bowl. If anyone can create defensive schemes to maximize James's potential it would be Saleh.  James has a red flag in his medical history. He suffered a torn ACL in 2016 and only played two games. Starting safety Eric Reid is expected to leave in free agency this year, opening a spot for James to potentially come in and start as a rookie.
Calvin Ridley, WR, Alabama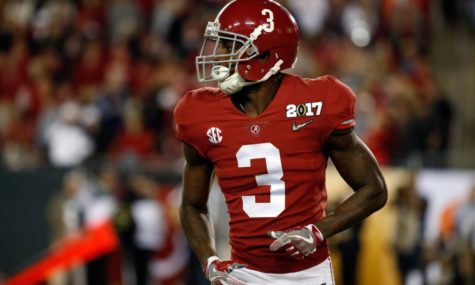 Calvin Ridley is the most polished wide receiver in this year's draft class. He is a smooth route runner that gets out of his breaks with fluid motion. Ridley catches the ball with soft hands. He also has enough gamebreaking speed to take the top off the defense as a vertical threat. Ridley's biggest knock is his age. On draft night he will be six months older than Oakland Raiders fourth-year receiver and fellow Alabama alumni, Amari Cooper. He will turn 24 during the upcoming season. The 49ers have two effective complementary receivers in Trent Taylor and Marquise Goodwin. Adding Ridley would give the receiving core a perfect balance and a true number one option in the passing game
Denzel Ward, CB, Ohio State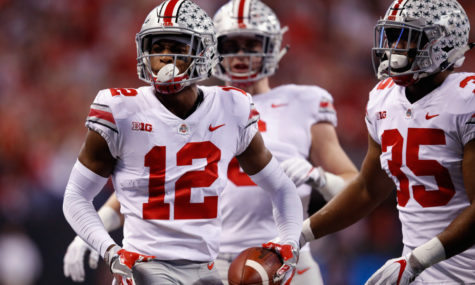 Denzel Ward has been described by the staff at Ohio State as the most athletic player to arrive in Columbus since Urban Meyer became head coach in 2011. Ward has true elite speed, which is a big reason why he has great man and zone coverage skills. He's also shown a keen ability to make a play on the ball, when a quarterback dares to throw to the player he's blanketing in coverage. Bleacher Reports lead draft analyst Matt Miller said on his podcast Ward should run a faster 4o-yard dash than ex-Ohio State teammate and New Orleans Saints defensive rookie of the year Marshon Lattimore. Lattimore ran a 4.36 40-yard dash at last year's NFL combine and Miller expects Ward to be in the 4.2 range. Wards biggest question mark is his slim size as he's listed at 5 feet 10 inches and 192 pounds. The 49ers ranked in the bottom half of the NFL in all defensive passing categories. Adding a shutdown corner with elite speed would quickly mend that.
Connor Williams, OT/G, University of Texas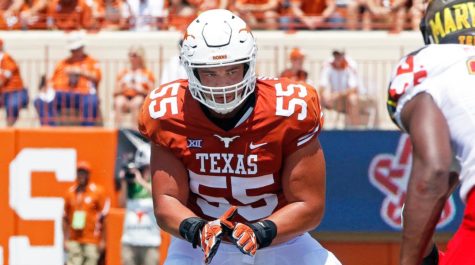 Connor Williams is a perfect fit in head coach Kyle Shanahan's zone blocking scheme. Williams has enough athleticism to play guard and the power/length to be a left tackle. He was a three-year starter at left tackle for the University of Texas, which is as uncommon as it is impressive for a true freshman to be the blind side protector  week one. The Niners offensive line allowed the tenth most sacks in the league and a whopping 116 quarterback hits. After locking down Jimmy Garoppolo with a five-year, $137 million dollar contract, keeping him healthy and upright should be one of General Manager John Lynch's main priorities.
Roquan Smith, LB, Georgia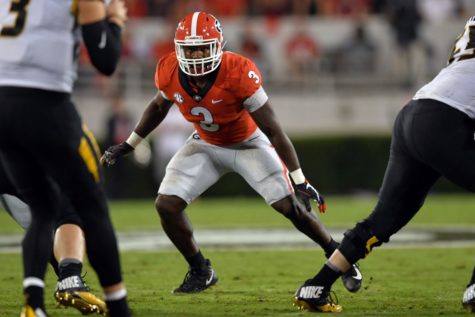 Roquan Smith is the definition of a sideline-to-sideline defender. Any Georgia tape you watch, Smith flashes all over the field making tackles. He has incredible football intelligence which always seems to lead him to the ball carrier. Smith won the Dick Butkus award, which is given to the nations most outstanding college linebacker after leading his team with 137 tackles. The most common criticism Smith receives from scouts is he struggles getting off of blocks from offensive lineman and gets washed away in the play. San Francisco selected linebacker Reuben Foster in the back-end of the first round last year and has been arrested twice in 2018, including a domestic violence charge. Foster can't be relied upon for the immediate future and if he is able to come back they will have a nice combo of complimentary players.