Bear Cubs win by largest margin of the season
Hang on for a minute...we're trying to find some more stories you might like.
The Santa Rosa Junior College Men's baseball team (6-2) dominated Cañada College 18-2 on Tuesday at Cook Sypher Field.
Runs were easy to obtain, with 12 runs on the scoreboard by the end of the second inning.
The team collected 21 hits and center fielder Daniel Teasley continued his torrid start to the season by collecting a team-high six hits.
Teasley went a perfect 6-6 at the plate and hit for the cycle. His "Ruthian" performance included a grand slam at the bottom of the first inning that vaulted the Cubs up 8-2.
Teasley leads the team in hits (19), triples (2) and batting average (.514) for the season.
Four players had two or more RBIs in the game and Teasley led with five.
"It's really simplifying the game that's what makes the game easy," Teasley said. "It's really slowing down the game—breathing,"
Pitcher Carson Snyder shook off a two-run homerun in the first inning and commanded the rest of the game.
Snyder pitched for 5.2 innings and allowed only two hits after the first inning.
He leads the team with 18 strikeouts, including five in the game against Cañada.
"I believe that you can pitch with a lot of confidence with an eight-run lead. Over the next 4.2 innings he threw shutout baseball and he only gave up 2 hits," said assistant coach Tom Francois. "I feel that Snyder will be a real asset to our team. He has a load of talent."
First Baseman Joe Canepa hit a two-run double in the bottom of the first inning. That was the first in a pair of two-run doubles for Canepa in the game, with the second one in the fourth inning.
SRJC was in unison on all three levels of the game.
"Everyone basically just had the same goals today and we we all had the same idea, whether it was approaches at the plate or defensively," said catcher Cole Brodnansky. "We all just stuck to them and actually executed very well today."
Brodnansky hit a two-run double down the left foul line that meandered to the furthest corner of the field in the bottom of the first inning. He went 3-5 at the plate, totalling four RBIs.
The Bear Cubs' win was their largest margin of victory since they beat Diablo Valley College 19-4 in April 2017.
"A win like this, as lopsided as it was, it's something that we can build on from there." Francois said.
The Bear Cubs look to build off of this tremendous win when they play Solano Community College at 1 p.m. Feb. 17 in Fairfield.

About the Writer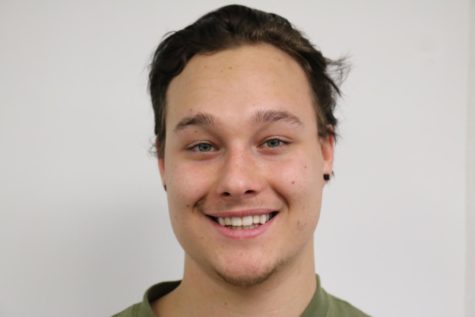 Attila LS Gero, Staff Writer
Attila was born in Los Angeles Aug. 1997 and moved to Sebastopol in July 2007. He is a second-generation immigrant from Hungary and has an extended family living in Budapest. With a combination of inherited writing skills,obsessive sports fanaticism and constantly seeking approval from his peers, it was a no-brainer for Attila to pursue a career in sports journalism. He is a fan of the Dodgers, Browns and Lakers. Attila is also a fan of: politics; romantic comedies; petting other people's dogs and renaming them when they leave; driving to nowhere with all his windows down in the summer while listening to music; wearing pink; annoying Brandon and feeding his shoe-shopping addiction; geography; hiding from people he went to high school with when he sees them on campus; and that feeling when you get into bed after a long day and a hot shower and the bed has new clean sheets.