2016 World Cup of Hockey power rankings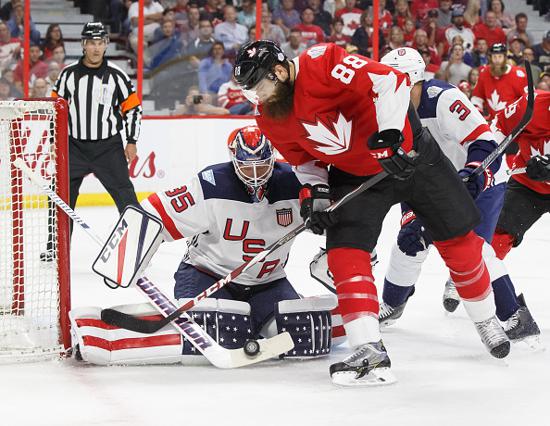 The 2016 World Cup of Hockey begins Sept. 17 after a 12-year hiatus, and hockey fans couldn't be any more mixed on the idea. The tournament takes place in Toronto, Canada with eight teams competing in two divisions. The USA will play in Group A against arch-rival Canada, the Czech Republic and a hybrid team, Europe, whose players are from countries that don't have teams involved this year. Group B features Russia, Sweden, Finland and a North American team made up of players under the age of 23.
After going over the rosters and past successes of each team (if any in the case of the two hybrid clubs), here is a ranking of each team and what will give them the chance to hoist the World Cup.
CANADA
Why they'll win: An all-star cast of scorers, playmakers, defenders and an amazing goalie tandem. They're also the defending champions in just about every international competition and have home ice advantage.
Why they'll lose: Overconfidence has proven to be a downfall for many Canadian teams before them, and it could certainly happen here. Going with a relatively weaker defensive group due to the shot strategy of having equal left-handed and right-handed defenders could also come back to bite them.
FINLAND
Why they'll win: Possibly the most well-rounded team at the tournament, with a great ratio of older stars and young guns at every position. The Finns' speed will kill older teams, and their goaltending duo of Pekka Rinne and Tuukka Rask is lights-out.
Why they'll lose: The younger players' overall lack of pro experience could be a huge issue against more veteran laden teams. Rinne and Rask both had off years last season, and might not be back on the upswing yet.
RUSSIA
Why they'll win: The incredibly powerful "Russian Machine" offense rips through the competition, while the team's defense and goaltending will simply need to keep up. A hard hitting mentality is also going to work well in their favor.
Why they'll lose: There's going to be a huge problem if any scoring dries up. Faster teams will pass through the defensive core like butter if the Russians can't impose their will, and subpar goaltending would be the final nail in the coffin.
SWEDEN
Why they'll win: A great mix of experience and excellent playmaking abilities to make opponents look like pylons. Stellar goaltending from Henrik Lundqvist and Jacob Markstrom can also steal an extra game, which will be needed in Group B, a.k.a. the "Group of Death." They also have the best uniforms in the tournament. (Not really a reason for winning but it should be.)
Why they'll lose: Most of the veterans are in the twilight of their careers and might not be able to keep up with younger squads. The Swedes are also stuck in a division with Finland and Russia, making them the unlucky bubble team.
UNITED STATES
Why they'll win: Coach John Tortorella's loud attitude will bring the team together, like it did in Tampa Bay. Patrick Kane and Joe Pavelski lead a hard hitting defensive attack against the tournament's smaller teams and earn wins the hard way.
Why they'll lose: Tortorella's loud attitude will make the players tune him out, like it did in Vancouver. The Americans chose defense over offense when assembling the team, which puts them at a huge disadvantage against the teams above them on this list.
EUROPE
Why they'll win: A collective of all-stars from numerous countries make them far more dangerous than people assume. A balanced lineup through every position means they'll have chances to sneak up on teams playing a lax game.
Why they'll lose: The lack of country honour that usually comes with international tournaments might make the players less enthusiastic about the whole event. Goaltending is a major wild card and could be the difference between stealing a win and coming up short.
NORTH AMERICA
Why they'll win: A group of underdogs use their status as a motivation to shock the world, then get a Disney movie made about themselves years later. The young stars will take over with speed and high tempo hockey that can run older teams absolutely ragged. Also, Connor McDavid. Enough said.
Why they'll lose: Tougher and bigger teams will likely be able to toss these guys around, and professional experience is obviously lacking in this group. The defense core is still mostly offensive minded, and run the risk of getting burned in their own zone a lot.
CZECH REPUBLIC
Why they'll win: Jakub Voracek and Tomas Plekanec go on a superhuman scoring tear, the goalies channel their inner Dominik Hasek and the team gels together better than the ones made up of snipers.
Why they'll lose: They're easily the weakest team in the tournament, and that was before they lost David Krejci and Tomas Hertl to injuries. The Czech goalies are very inconsistent, and will have a tough time stealing games against Canada and the USA.