One brotherhood, one champion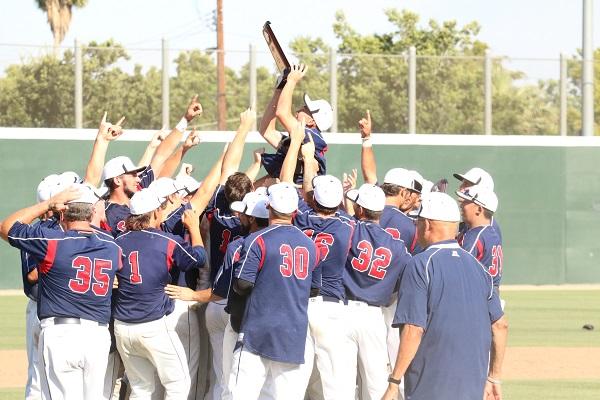 They played two games. They scratched out a total of 32 hits and 16 runs. They used a relief pitcher to start a game and they used a starting pitcher to close a game.
The Santa Rosa Junior College Bear Cubs won the 2016 California Community College Athletic Association State Championship, beating Golden West College 6-3 May 30 in Fresno.
"They literally weren't supposed to do this," said head coach Damon Neidlinger. "Any time you win like this and have it be this kind of a struggle, it's all the sweeter."
It's SRJC's (38-9) third State Championship and first since 2005.
Starting pitcher Alec Rennard and shortstop Jake Scheiner were name Co-MVPs.
Rennard had a win and a save in 8.2 innings. He allowed two earned runs on six hits while striking out six. He got the final three outs of the deciding game two days after throwing 119 pitches in SRJC's CCCAA State Championship opener.
"I was so locked in," Rennard said. "There was no way that we were going to lose. I wasn't thinking anything else. I just had one track in my head: just locate, get outs."
Scheiner hit 10 for 16 in the State Championship tournament with a home run, two doubles, five RBIs, four runs scored and two stolen bases. He raised his final season average to .402.
"It's been an unbelievable ride," Scheiner said. "These guys, we've competed our ass off together, we've done so much together. I'm never going to forget this season for the rest of my life."
Relief pitcher Ladd Ah Choy started the final game for SRJC. Ah Choy hadn't pitched more than three innings in an outing all season. He pitched five innings, giving up two runs on five hits. He struck out three batters.
"I just knew I couldn't give them any free passes," Ah Choy said. "I knew my team would get some hits and put some runs on the board. I just needed to get it to the next guy. This is probably the best day of my life."
Golden West scored first with an RBI-single to center field in the third inning to make the score 1-0.
SRJC came back in the bottom of the fourth inning. Right fielder Zach Hall drove home first baseman Ryder Kuhns with a single up the middle to tie the game, and the Bear Cubs took a 2-1 lead on a throwing error by Golden West's third baseman on second baseman Myles Andrew's bunt.
"The work ethic our whole team had," Hall said. "We had four or five hour days on the field just grinding, getting ready for this moment. The 10 months that we went through to get here and win it, that's the biggest thing."
Golden West tied the game with a two-out single up the middle in the top of the fifth inning.
SRJC's Anthony Bender pitched the sixth, seventh and eighth innings. He allowed one unearned run on four hits while striking out two batters.
"Everybody on this team, we all love each other," Bender said. "We fight, then we come back. We're just a big family. That's what it took to win. Everybody came together and ended up being state champions."
Third baseman George Foster led off the bottom of the sixth inning with a single. Catcher Charlie Magana bunted him to second base and left fielder Mitch West drove him home with a base hit to right-center field.
"It was definitely a dog fight out there. We knew they were going to show up," Magana said. "We were just trying to help everybody individually stay calm and do their job."
Golden West tied the game again 3-3 in the top of the seventh. Bender fielded a line drive off his back with two outs and threw the ball away allowing the tying run to score and the batter to go to second. The next batter singled to left field, but West threw out the potential go-ahead run at the plate.
The bottom of the seventh inning started with Bart grounding out until the umpires on the field got together and overturned the call. Bart was driven home later in the inning by Hall. Hall finished the game two for four with two RBIs.
"I was safe," Bart said. "That's why I reacted the way I did. I had him by half a step."
SRJC tacked on two more runs to make its lead 6-3 in the eighth inning with RBIs from Kuhns and center fielder Bryce Nagata.
"Everyone gave it 100 percent every day, on practice and game days," Nagata said. "This is an incredible group of guys. I would not want to share this moment with any other team."