SRJC holds on to beat Cypress 6-5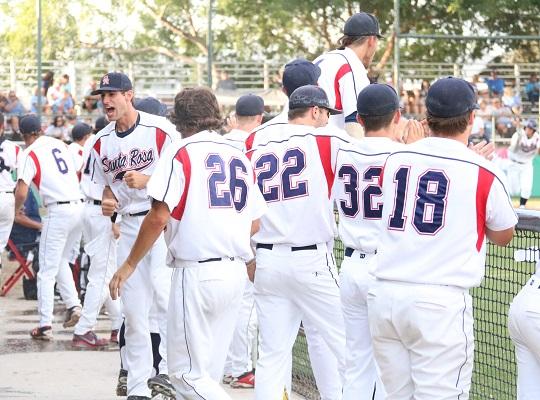 In an evening filled with comeback attempts by the Cypress College Chargers, they made one last charge in the ninth.
Santa Rosa Junior College closer Anthony Bender allowed a single to lead off the ninth inning with SRJC clinging to a two-run lead. He walked the next batter, putting the tying run on base.
Third baseman George Foster's throwing error on a sacrifice bunt attempt allowed a run to score, trimming SRJC's lead to one, with nobody out.
Foster converted the out on the next sacrifice bunt attempt which put runners on second and third with one out.
Bender struck out the next batter and got the final batter of the evening to fly out to center field, and SRJC held on to win 6-5 on day one of the CCCAA State Championship tournament in Fresno May 28.
SRJC (36-8) plays Golden West College (30-14) at 2 p.m. May 29. The winner moves on to the final round of the double-elimination tournament without a loss.
The Bear Cubs touched up Cypress starting pitcher Tylor Megill for 6 runs on five hits and four walks in 5.1 innings. Megill is a major league pitching prospect who is committed to play at the University of Arizona next year.
"It just shows how hard we worked all year," said left fielder Mitch West. "We put in the time and effort to be tougher and grind. All those extra reps we take shows in the late innings now. It keeps us calm and keeps us composed."
SRJC's second baseman Myles Andrews drove home the game's first run with a two-out RBI-single to center field. Andrews is hitting .563 in his past five games with five runs scored.
"I just tried to put the bat on the ball," Andrews said. "I knew if I just stayed back and hit the ball good things would happen, fortunately it did."
SRJC made it 3-0 in the third inning. Designated hitter Jeff Bart was hit by a pitch in the ninth pitch of his at bat with the bases loaded forcing in a run, and right fielder Zach Hall hit a sacrifice fly to score another.
Meanwhile, SRJC's ace Alec Rennard was cruising on the mound. Through the first four innings he scattered three hits and struck out two batters.
His fifth inning began with two ground outs and he struck out the next batter, but catcher Charlie Magana threw the dropped third strike into right field, allowing the batter to advance to second. The next batter drove him in with an RBI-single to left field, making SRJC's lead 3-1.
SRJC shortstop Jake Scheiner got the run back in the bottom of the inning, crushing his eighth home run of the year to left-center field. Scheiner finished 3 for 4 with an RBI and two runs scored. This season Scheiner is hitting .390 with 57 RBIs, 49 runs scored and nine stolen bases.
The Bear Cubs increased their lead again in the sixth inning. Magana drove home Foster with a base hit to center field and West hit a sacrifice fly to make SRJC's lead 6-2.
Rennard began the eighth inning by allowing a walk a double. He gave up back-to-back sacrifice flies to make SRJC's lead 6-4. He finished after 7.2 innings, allowing four runs (two earned) on five hits, five strikeouts and one walk.
"I set out to give our team the best chance we could to win and I feel like I did that," Rennard said. "There were times in the game where I didn't feel right, this-or-that happend, but you kinda just have to throw your nuts on the table at some point and say 'I'm not going to let you beat me, and I don't know how I'm going to do it, but you're not beating me."
Rennard increases his record to a state best 14-1.
"It was a fricken battle," said head coach Damon Neidlinger. "Either you're here to win this thing or you're not."