One win away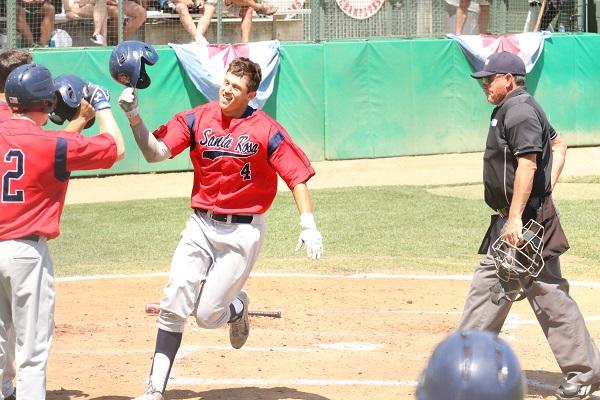 Matt Estes pitched seven innings, and Bryce Nagata and Jeff Bart each homered in Santa Rosa Junior College's 6-2 win over Golden West College in the semi-finals of the State Championship tournament May 29 in Fresno.
SRJC (37-8) advances to the state championship game, and will play Golden West College at 11 a.m. May 30. SRJC will have to be beaten twice as they are 2-0 in the double-elimination tournament.
"We're approaching it with the same attitude we came into the tournament with," Bart said. "Which is basically do the little things. Just play catch, swing at strikes and take it one pitch at a time. We're not really getting ahead of ourselves right now."
Bart's first home run of the season increased SRJC's lead to 4-0 in the first inning. It followed Bryce Nagata's fourth home run of the season.
Nagata's line drive went under the center fielder's glove and rolled all the way to the 400 foot sign in center field, allowing Nagata and Mitch West to score.
"It was a good way to start the game," Nagata said. "We usually do better if we score first. Bart hitting the home run after was awesome. That was a shot."
Estes picked up his eighth win of the season and lowered his ERA to 2.96. Estes, who hadn't pitched more than three innings in his first two playoff starts, pitched seven innings and allowed one run on four hits.
"I made sure I located every pitch," Estes said. "I got ahead early so I could throw my off-speed."
Estes allowed three of his four hits and his only run in the top of the fifth inning. After allowing a RBI-single he retired eight-straight batters to get SRJC to the eighth inning with a 6-1 lead.
"You need efforts like that if you're going to have a chance," said head coach Damon Neidlinger. "He matched-up well with them. If you're trying to get to tomorrow, you need an effort like that from somebody."
SRJC increased its lead to 6-0 in the bottom of the fourth inning with an RBI-single from Charlie Magana, and Jake Scheiner's walk forced in a run.
Jared Noonan pitched the final two innings. He allowed one run and five hits.
"You have to block out all the noise," Neidlinger said. "Whoever shows up here tomorrow is going to be good, they're going to be tough. Everybody's capable of beating anybody. You have to stay locked in to what you're doing. If they do it a certain way, I'll have respect for what they do no matter how this shakes out."