Rennard's shutout sends Bear Cubs to State Championship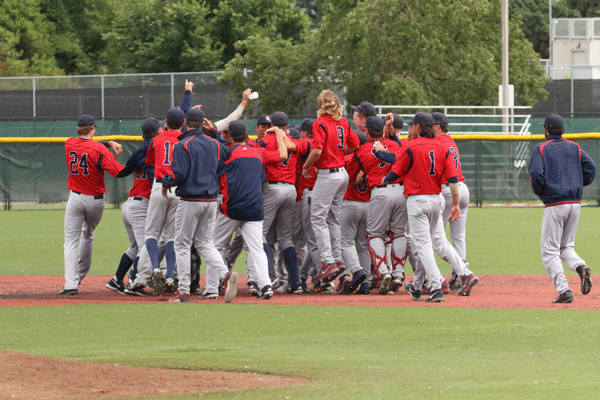 Alec Rennard silenced the Chabot College bats, tossing a complete game shutout as the Santa Rosa Junior College baseball team won 5-0 in Game 2 of the California Community College Athletic Association Northern California Sectionals May 21 at Cook Sypher Field.
SRJC (35-8) advances to the State Championship for the first time since 2013.
"It's a culmination of a heck of a lot of work that these guys have done," said SRJC assistant coach Tom Francois. "It's not just one person. It's a ton of guys."
Without a hit in the first four innings, the Bear Cubs managed to score two runs. Chabot starting pitcher Conyal Cody walked six batters in the first three frames.
In the first inning, Bear Cubs centerfielder Bryce Nagata walked, stole second base and later scored on an error by the Chabot second baseman. The Bear Cubs gained a 2-0 lead in the second inning on a bases loaded walk drawn by shortstop Jake Scheiner.
"It was a dog fight out there," Scheiner said. "It was a huge series and both teams competed well." Scheiner finished 2-for-4 with 3 RBIs, including a 2-RBI double in the eighth inning that sealed the victory for SRJC increasing their lead to 5-0.
The Bear Cubs finally got their first hit in the top of the fifth inning when Scheiner roped a ball into the right-center field gap for a leadoff triple. First baseman Ryder Kuhns drove him home with a single to centerfield to make the score 3-0.
Meanwhile, Rennard was perfect through four innings. In the fifth inning he allowed a walk and a bloop infield single just behind the pitcher's mound for Chabot's first base runners of the afternoon. He allowed two hits, walked one and struck out eight batters.
"Get ahead and stay ahead is my mentality," Rennard said. "Then just locate and get outs. Right from the get-go I was feeling all four of my pitches."
No. 1 Santa Rosa advances to the State Championship with Big 8 Conference foe No. 9 San Joaquin Delta (31-11), and No. 3 Golden West College (29-14) and No. 4 Cypress College (30-13) from the Orange Empire Conference in southern California.
The tournament will be held May 28-30 at Fresno City College.