Not phased: Bear Cubs fight back from Game 1 loss to take series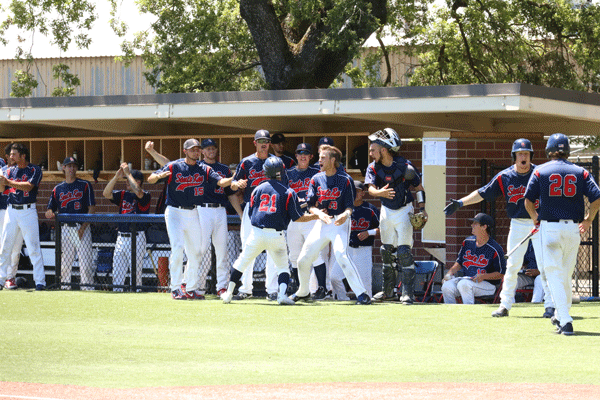 Down but not out.
The Santa Rosa Junior College baseball team survived two elimination games against Folsom Lake College May 14-15 to advance to the California Community College Athletic Association Northern California Sectionals May 20-22 at Cook Sypher Field.
The Bear Cubs are two wins away from advancing to the State Championship May 28-30 at Fresno City College.
In Game 1, the Bear Cubs failed to produce anything offensively. They recorded only five hits and struck out 13 times in a 3-1 loss.
Folsom Lake starting pitcher Will Felton kept the Bear Cubs' bats quiet in 5.2 innings of work. He scattered four hits, walked two and struck out six.
"[Felton] did a good job at locating his pitches and staying ahead in the count," said Bear Cubs' right fielder Jeff Bart. "I don't feel like we capitalized on opportunities we had with runners in scoring position and that turned out to hurt us."
For Santa Rosa, starting pitcher Ezio Bruchler averted danger in the second inning, but failed to do so in the third. He allowed a three-run home run to Folsom third baseman Tyler Kiam.
The Bear Cubs started a rally in the bottom of the fifth, when designated hitter Matt Bone hit a leadoff double and scored on the following double by third baseman George Foster. Felton sat down the next three batters to end what looked like a promising inning.
"We weren't able to get on time with [the fastball] early," Bone said. "The two doubles were an example of how quickly we can get going."
SRJC's offense couldn't create another rally once Folsom reliever Jason Wullenwaber came in for a 3.1 inning save. He struck out seven of the 13 batters he faced.
With their backs against the wall, the Bear Cubs responded to the Game 1 loss with a crushing 10-4 victory in Game 2.
"It wasn't overwhelming joy," Francois said. "They still had a foot on our necks, but what it did do was give us a lot of confidence. The guys [SRJC] were confident, but not overconfident."
SRJC ace Alec Rennard delivered a gem for his team. He pitched eight innings, struck out 13 and only allowed one run on three hits.
"I prepare all week to succeed," Rennard said. "On game day I go out there and try to go as many quality innings as I can for my brothers on the field."
The Bear Cubs supplied plenty of offense for the hard-throwing right hander. First baseman Ryder Kuhns and Jake Scheiner combined for six hits and eight RBIs.
"When you're batting in the three and four spots, you get opportunities to hit with runners on base," Scheiner said. "We just tried to capitalize on every scoring opportunity we could."
Down 10-1 in the bottom of the ninth inning, Folsom Lake attempted a comeback. SRJC relief pitcher Paris Selzer replaced Rennard and struggled to get the final three outs. He gave up three hits and walked two batters to trim the lead to 10-4.
Selzer struck out Folsom left fielder Greg Vaughn to end the late Falcon rally.
"We had such a tremendous lead. There was no worry whatsoever," Francois said. "Damon [Neidlinger, SRJC coach] wouldn't have let that happen."
In the win-or-go-home game three, the SRJC pitching staff was nearly flawless. Matt Estes, Jared Noonan and Anthony Bender pitched three innings each. They allowed one run on four hits while striking out 10 batters.
"Estes threw great and set the tone really well," Noonan said. "From there it was just throwing strikes and maintaining the lead."
Pitching dominated the beginning of Game 3. Only one batter reached base for either team in the first two-and-a-half innings.
In the bottom of the third, the Bear Cubs broke out for five runs. Center fielder Bryce Nagata and Kuhns each drove in two runs, and Bart tacked on another to give them what felt like an insurmountable lead.
"The hitters stuck to the process and the pitchers did what they do best; which is throw strikes and let the defense work," Nagata said.
Noonan allowed Folsom's first hit in the fifth inning and their only run in the sixth.
Bender struck out six batters in the final three frames as SRJC went on to win the game 7-1.
"These guys never quit. They're just grinders," Francois said. "Nobody, and I mean nobody, has worked as hard as these guys. It's not just because of their work ethic, but their brotherhood."