Homeless in Santa Rosa: Two brothers travel to California in hopes of a better life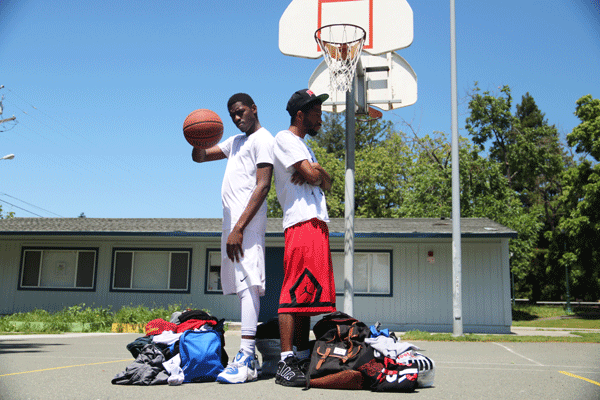 Two thousand nine hundred and fifty-two miles.
This is the distance from Tampa Bay, Florida to Santa Rosa, California. This is the distance one Santa Rosa Junior College student traveled to chase his dream. This was the distance two brothers went to create a better life.
In June 2014, James Odoms III, 21, moved from Tampa Bay to California with only $5,700, hoop dreams and a yearning for better opportunities. With only one family member living in California, Odoms moved here with goals of his basketball skills getting noticed by a community college, then a Division I college, as well as having a "full college experience in California."
Odoms, who started at SRJC in Fall 2014, spoke with the basketball coach before moving, and is redshirting this season. He has been homeless for 10 months, but is upbeat and positive.
When Odoms first arrived, he moved in with his uncle who lived in Mendocino. He lived there for three months before renting a room on the west side of Santa Rosa for $600 a month. He immediately enrolled at SRJC and started to train with the basketball team. He landed a job at the nearby Panera Bread.
Six months into moving to California, Odoms' brother Jay Hooks, 22, moved from Tampa Bay to Santa Rosa to support his brother on his journey to playing Division I basketball. He too came with very little money, in hopes of getting away from his struggling life in Tampa Bay.
"It's different back home," Hooks said. "It was bad. I was in a bad area where you can't succeed and everywhere you go you hear gun shots. People don't want to go to school."
With Odoms working at Panera, Hooks filled out job application after job application, with no luck.
"I worked at McDonald's in Tampa Bay for two years, and I couldn't even get a job at a McDonald's out here, and they had a hiring sign up in the window," Hooks said.
He eventually found a job at Safeway, but by that time he and his brother had received a 30-day eviction notice.
"She [the landlord] gave me 30 days and said I will get my deposit back as long as I clean the room. I scrubbed the walls, the carpet, I cleaned everything! And she still didn't give me my deposit back," Odoms said. He was relying on that deposit to move into another room  he had arranged.  He and his brother were stranded with all of their belongings. Homeless.
According to a 2013 study, 4 percent of SRJC students were homeless or living in a shelter while in school. Today about 1,200 SRJC students struggle with homelessness. As for Odoms, he has to deal with the stress of school work, along with the struggle of eating every day, and finding a couch to sleep on at night, while keeping his energy to train with the basketball team four days a week.
"We slept in a van for about 70 days, then spent nights in a car, then spent all our money on hotels and storage. We even slept in a 24-Hour Fitness a few times on the basketball court because we had nowhere to go," Odoms said.
Although Odoms and Hooks have endured immense hardships to stay at Santa Rosa Junior College, it is nothing compared to their lives in Tampa Bay. Hooks' family, especially his mom, happy he was getting out of where he was.
"You'll be lucky if you make it to 18 and graduate high school down there now," he said.
"My whole family loves that I'm over here doing the right thing. This is part of growing up, I just didn't know this is what it was all about."
Hook's mother was so willing to help him pursue a better life that she sent him to Atlanta to live with a cousin for a couple months until he earned enough money for a bus ticket to Santa Rosa. He rode on the step of a hot overcrowded, Greyhound bus for 13 hours from Atlanta to Dallas, where he slept on the streets of Dallas for one night until he got on his next bus to Oakland. He then spent one night on Oakland streets before catching his bus to the outskirts of Santa Rosa Avenue. It was a tough three-day journey for Hooks, all for his brother, chasing a dream.
Life in Tampa was far from OK for Odoms. During his sophomore year at King C. Leon High School, he was arrested for possession of a marijuana cigarette, and a small amount of marijuana in a bag.
"I was picked out of a huge crowd of students," Odoms said.
The Green team a local law enforcement task force to prevent juvenile marijuana use came up to ask if he had pot.
"They said if I didn't cooperate they would slam me on my head," Odoms added.
He was put on probation and began getting tested regularly for marijuana. He admits to failing a couple tests. Plus, he had to go to a detox center at the juvenile hall.
In court, the judge said if he had outstanding behavior for a week, he would be released from probation. That week, he was hit by a car.
"It was six or seven in the morning and I was walking to school. I turn my head to look behind me and I didn't see any cars; It was a dirt road, with no sidewalks." A car then turned the corner and hit him from behind. He was knocked out and woke up with four broken bones in his foot, a cracked skull and a huge hospital bill.
"I didn't get any physical therapy. I thought I would never play basketball again. At that point I was really wondering what I would do with this life," Odoms said.
Despite his accident and good behavior, Odoms returned to court a week later with a new judge. Unaware of the previous deal, the judge looked at his record and immediately sent him to a residential drug program. This ruined all hopes of playing high school varsity basketball. "They wanted to institutionalize me for smoking weed," Odoms said, who was in treatment for eight months. "It felt like a foster home. It was horrible. I didn't like it at all, but I learned a lot from it."
After dealing with all this in Tampa, when his mom asked if he wanted to move to California with his uncle, he immediately said yes. He felt he needed to move and his family feared of what was happening around him.
It's now been a year and 10 months since Odoms reached Santa Rosa. Homeless almost half the time he has not once lost sight of his dream of playing DI basketball with his brother by his side as a solid support system behind him.
When asked about the hardest part of life in California, the brothers agree that homelessness is the biggest struggle.
"Not being stable or being in your own home, in your own bed and being able to do homework at home where you can focus on school, and focusing on basketball while being unstable has been the hardest," Odoms said.
Hook added, "Not sleeping for days, not eating and still going to school and basketball class. Not seeing my family. I haven't seen my mom in two years, and I don't want to go back to the same thing where people are catching 30 years. It's real calm and chill over here, but not eating messed with my emotions real bad."
With everything these two men have had to endure in order to stay at SRJC, you think that they're basically on their own, and that's exactly how they see it.
"Even though we're couch surfing right now, I still consider myself homeless, because I have nowhere to go," Hooks said.
But despite their 'lone-wolf' feeling's there is much help offered at SRJC.
The college's office of Student Equity has been around since the late 90s, helping students. It recently received more funding through the Student Success Act of 2012, and expanded since then.
Genevieve Bertone is the director of the Student Equity Program, which aims to first understand which students are struggling, then help them with those struggles. The student equity program has helped all types of struggling students including foster students, veterans and the disabled.
"What we try to do is meet the student where they're at, and help them get across the finish line," Bertone said.
And this is exactly what the student equity program is about. With struggling students from a variety of diverse backgrounds, it is near impossible to personally help the needs of each of these groups.
The Student Equity office hands out 75 food vouchers to students (every Monday and Tuesday from 9 a.m. – 12 p.m.) in the Bertolini Center, as well as supply vouchers through clubs such as the second chance club and the dreamers' club.
"Our mission is to identify the opportunity gaps, and reverse the barriers to academic success. We all come from different places, and have different goals," said Bertone.
Odoms and Hooks are hopeful of finding jobs over the summer while Odoms continues to train with the team. And with all the help SRJC is starting to offer homeless students through the Student Equity Programs, such as scholarships to help students with living cost and school expenses, and meal coupons, the future for these two men is looking brighter.