Santa Rosa cruises to sectionals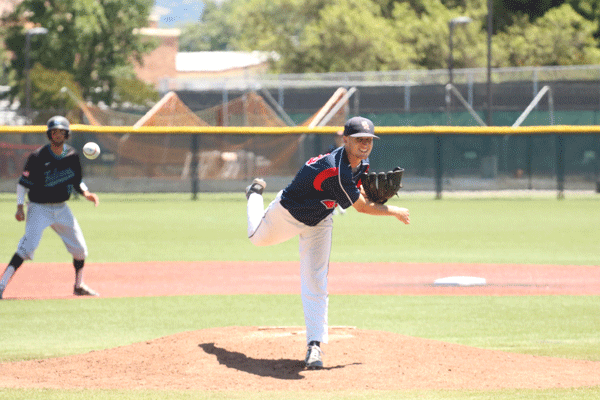 Bryce Nagata, Ryder Kuhns and Jeff Bart each drove in two runs in Santa Rosa Junior College's Super Regional clinching win May 15. SRJC beat Folsom Lake College 7-1 to advance to the California Community College Athletics Association Sectionals May 20-22.
SRJC left fielder Mitch West was hit by a pitch in the eye to load the bases in the third inning. Nagata followed with a single up the middle giving the Bear Cubs a 2-0 lead. Kuhn's double made it 4-0 and Bart capped off the five-run inning with an RBI-single to left field.
"That was badass," relief pitcher Jared Noonan said about West staying in the game. "That picked us up big time. I think that got everybody all the way into the game."
SRJC pitchers Matt Estes, Anthony Bender and Noonan each pitched three innings. Estes didn't allow a hit, struck out two and walked one batter to start the game.
"It was a lot better than my last start," Estes said, who gave up six runs in 1.2 innings in game one of the regional series. "My whole week of preparation was a lot better. I slowed myself down and took a deep breath after every pitch"
Noonan allowed one run and three hits in his three innings pitched. He struck out two batters.
Bender struck out six batters and allowed one hit in the final three innings.
"We're feeling good but I don't think any of us are feeling satisfied at all," centerfielder Nagata said. "I got really mad when they beaned Mitch in the head. So I was like, I gotta do something to pump up my team somehow. Everyone came up with those big hits."
Shortstop Jake Scheiner and Bart each drove in a run in the fifth inning to make the score 7-0.
No. 1 SRJC plays No. 10 Chabot College in the Sectionals May 20-22 at Cook Sypher Field.
The two clubs met in the season's opening weekend, splitting the two games Jan. 28 and 30. SRJC won the first game 8-3 behind third baseman George Foster's 3-for-5 performance with 2 RBIs. Catcher Charlie Magana had a 3-RBI double in that game and Alec Rennard pitched 6 innings for his first win of the season. SRJC lost the second game 6-2 with only three hits. Ezio Bruchler pitched four innings and allowed one run.