Bear Cubs defeat Falcons to force Game 3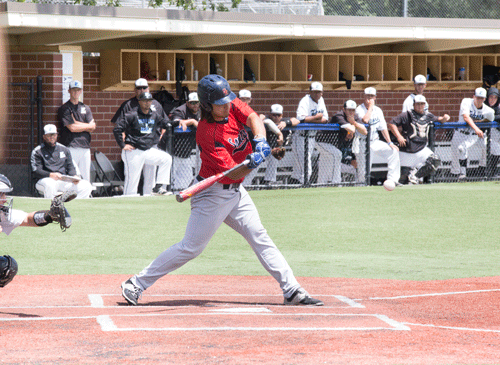 Big 8 Conference pitcher of the year Alec Rennard kept the Santa Rosa Junior College baseball team alive in the California Community College Athletic Association Northern California Super Regionals, shutting down the Folsom Lake College Falcons' bats 10-4 in Game 2 of its three-game series May 14 at Cook Sypher Field.
"When you get to games like this; you can't put any extra pressure on it," Rennard said. "My job was to give our team the best chance we had to win.
Rennard pitched eight innings, struck out 11 batters and earned the win. He's now 2-0 in the playoffs with 18 strikeouts and a 0.59 ERA.
"My command felt good today," he said. "I wasn't pressing to be to fine with it. I got in a rhythm and let it work for me."
The Bear Cubs offense gave Rennard some early run support. In the top of the first inning, they loaded the bases and first baseman Ryder Kuhns delivered a two-RBI single. Kuhns finished the game with three hits and five RBIs.
"Damon [Neidlinger, head coach] got us ready for today," Kuhns said. "We are facing elimination and we want to win. We want to move on."
In the second inning, the Bear Cubs loaded the bases again. Shortstop and Big 8 Conference MVP Jake Scheiner delivered a clutch two-RBI single to give the Bear Cubs a 4-0 lead. Eight of the 10 RBIs were provided by Kuhns and Scheiner.
The Falcons scored in the bottom of the third inning on a home run off the bat of left fielder Greg Vaughn. It was Vaughn's first homer of the year and the only mistake Rennard made.
Centerfielder Bryce Nagata came through with a RBI-single in the third inning and Mitch West also contributed an RBI-sacrifice fly in the top of the ninth inning.
Just a day after the Bear Cubs only recorded five hits, they reached the polar opposite and combined for 14 knocks.
"Thirteen strikeouts yesterday, they [SRJC] didn't want to repeat that," said Bear Cubs' assistant coach Tom Francois. "They were reading the spin on the ball on the off-speed pitch, they were very patient and they were very composed with their Abs [at bats]."
Just like in the first round of playoffs, the Bear Cubs need to win the decisive Game 3 of the series to move on to the CCCAA Northern California Sectionals. The concluding game of the series begins at noon May 15 at Cook Sypher Field.