Bear Cubs' bats go cold in Game 1 of Super Regionals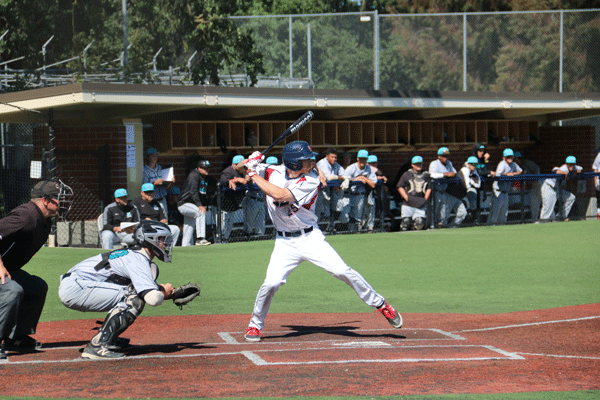 Fans packed the stands at Cook Sypher Field as No.1 Santa Rosa Junior College faced No.14 Folsom Lake College May 13. FLC defeated Santa Rosa 3-1 to capture a 1-0 lead in the three-game series of the California Community College Athletic Association Northern California Super Regionals.
SRJC starting pitcher Ezio Bruchler allowed a three-run home run to Folsom outfielder Tyler Kiam in the top of the third inning. It was Kiam's seventh homer of the season.
Bruchler struggled with his command and allowed four walks and hit a batter in just three innings of work.
"I hate to see the base on balls [walks]," said SRJC assistant coach Tom Francois. "And we gave up a lot of those today."
Bear Cubs' relievers Jackson Ketron and Ladd Ah Choy combined for five shutout innings and only allowed four hits.
"They [Ketron and Ah Choy] did a good job. There's no question," Francois said.
Folsom starting pitcher Will Felton held the Bear Cubs to just one run in 5.2 innings of work. Felton has allowed just two runs in 12.2 innings during the playoffs.
SRJC failed to produce much offense against Folsom. Their lone run came on a RBI-double by third baseman George Foster. They finished the game with just five hits; their lowest amount since April 12.
"We gotta hit. It's simple as that," Francois said. "We had some great batting practice all week long, but 2 o'clock batting practice doesn't translate to 2 o'clock playing real."
Not only did the Bear Cubs fail to hit the ball, but they also struck out a dismal 13 times. "Obviously, we were over matched with their pitching today; 13 strikeouts. Wow. Wow. I don't think I've seen that all year," Francois said.
The Bear Cubs also lost Game 1 last week against Reedley. They now turn to Big 8 Conference pitcher of the year Alec Rennard in Game 2. The two teams square off again at 1 p.m. May 14 at Cook Sypher Field.
"We have to win; it's midnight," Francois said. "We have no choice."