SRJC sweeps Delta with extra inning victory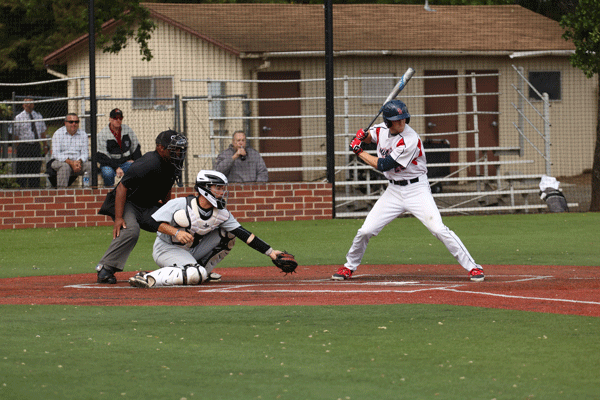 Designated hitter Matt Bone hit a sacrifice fly to tie the game in the eighth inning and later drove home the game-winning run in the 10th inning during a Santa Rosa Junior College 3-2 win over San Joaquin Delta College April 21 at Cook Sypher Field.
Down one run in the bottom of the eighth inning, Jake Scheiner led off with a single up the middle, Ryder Kuhns walked and George Foster bunted them into scoring position, setting up Bone's sacrifice fly to right field.
Tied in the bottom of the 10th inning, Kuhns singled up the middle, Foster laid down another sacrifice bunt and Bone drove home pinch-runner Jeff Bart with a base hit into left field.
"I had been getting beat by the fastball all game," Bone said, who finished 1-for-4 with two RBIs. "I finally made the adjustment."
Ezio Bruchler had one of his best starts of the Big 8 Conference season. He pitched six innings and allowed one earned run on eight hits and zero walks. He struck out four.
Bruchler ran into trouble in the fourth inning when a swinging-bunt single put runners on first and second base with nobody out. Bruchler allowed a double-steal and back-to-back RBI singles to give Delta (24-9, 10-8) a 2-0 lead.
"Baseball's tough like that," Bruchler said. "I got into a rhythm and wasn't really holding runners."
SRJC's (28-4, 16-2) bullpen took over in the seventh inning. Henry Burch allowed three walks and struck out two in two innings, and Paris Selzer pitched two-perfect innings with two strikeouts.
"I didn't want that loss to be on me," Selzer said. "I like going out there when the games on the line."
SRJC has now won three games in a row after dropping two out of three to Sacramento City College last week. It only needs to win one of its final three games against Cosumnes River College this week to win the Big 8 Conference.
SRJC's next game is against CRC (26-7, 13-5) at 1 p.m. April 23 at CRC.