Hurdling to victory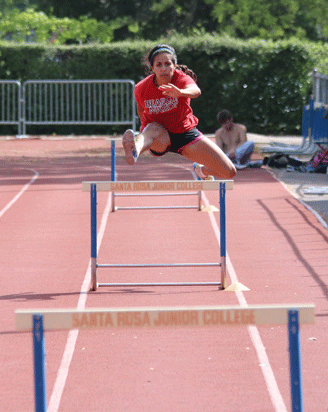 The Santa Rosa Junior College track team is in full gear and has participated in two meets since March, representing the school with strong performances.
SRJC men's and women's track team members competed in the Sacramento State Hornet Invitational March 18-19.
The women's 4×100 relay team placed seventh out of 12 teams with a time of 50.07 seconds.
Freshmen Erin McCullough placed 18th out of 50 participants in the 400-meter dash with a time of 58.61 seconds.
Sophomore Julia Grimm had an outstanding achievement in the javelin throw, placing eighth overall out of 39 participants with a throw of 39.8 meters.
"I want to beat the school record in the javelin. I already own it, but I want to beat it again, so then it'll be a hard record to beat," Grimm said.
Grimm also earned ninth place in the high jump with a 1.60 meter leap.
On the men's side, freshman Justin Thurman placed 36th out of 64 in the 800 meter run with a time of 1:58.08.
The Bear Cubs also competed in the 2016 American River Invitational on March 25-26.
The women's team had a great day with impressive performances from several members.
The women's 4×100 relay earned sixth place during the track meet with a time of 50.31.
Grimm finished 14th and Stephanie Fernandez placed 15th out of 28 in the 100- meter hurdles with times of 16.78 and 16.86 seconds respectively.
Fernandez beat her personal record in the 100, but wasn't satisfied with her performance just yet.
"I'm happy I PR'd [personal record], but I know I can run faster than that," Fernandez said.
Grimm finished third out of 20 in the long jump with an amazing distance of 5.32 meters.
McCullough had a fantastic showing in the 100-meter dash, finishing 16th out of 47 athletes with a time of 12.8 seconds.
Fernandez put in another fine effort in the 400-meter hurdles, finishing fourth overall with a time of 1:06.49 seconds.
Erica Ruiz's performance landed her second place in the 5000-meter run with a time of 19:23.38 seconds.
In men's results, the 4×100 relay team finished tied for eighth at 43.26 seconds. Justin Zinnerman finished 21st overall out of 102 in the 100-meter dash with a time of 11.04 seconds.  Zinnerman also had a fantastic performance in the high jump, earning second place with 1.87 meters.
"I'm proud that I got second but I'm also mad because it wasn't my PR. With more training, I can beat my PR next season," Zinnerman said.
Cyrus Corman-Gill was 10th overall in the hammer throw, with a 46.44 meter throw.
Kasey Mancini placed ninth overall in the javelin, throwing 44.68 meters.
Kevin Moe and Adam Gockel put in admirable performances in the decathlon, taking first and second place respectively.
The Bear Cubs' next track meet is April 12 at the NorCal Multi Championships in Salinas.