Bear Cubs' Hill recovers from surgery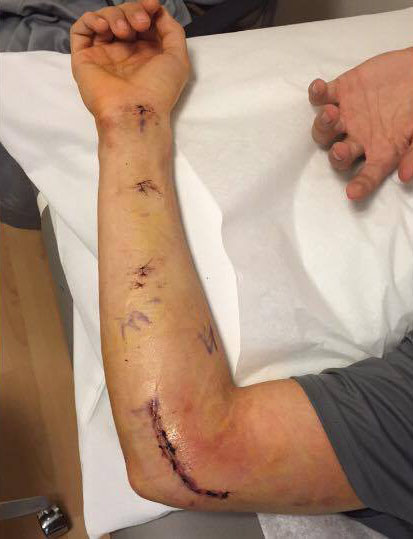 Santa Rosa Junior College pitcher Garrett Hill was one of the key factors in the Bear Cubs' successful play last year with his dominating freshman performance on the mound. He isn't pitching for the Bear Cubs this season due to Tommy John surgery to repair a partial tear in his elbow.
Ulnar Collateral Ligament Reconstruction is the medical term for Tommy John surgery. It was named after MLB pitcher Tommy John who was the first to undergo the surgery. TJS is very common in baseball, especially with pitchers.
Hill first noticed discomfort in his elbow in a game against San Joaquin Delta College last season.
"I pitched seven full innings, 100-plus pitches and the next day it [his elbow] just felt a little weird," Hill said. "It wasn't your normal soreness."
Hill decided to take a couple months off before returning to pitch for the Bear Cubs towards the end of the 2015 season. He then rested during the summer and refrained from throwing too much.
The hard-throwing right-hander decided to begin tossing again in fall with his arm feeling better, but noticed the discomfort again about a month later.
"I had that feeling again, so I told Damon [SRJC head coach]. I got an MRI on it and it was a partial tear," Hill said.
Knowing that TJS was a possibility, Hill hoped to steer clear  of surgery, but it was unavoidable.
"We   tried to do everything not to get surgery — PRP shots, injections, just whatever," Hill said.
Hill met with Dr. Kenneth Akizuki, who performs surgeries for the San Francisco Giants, to discuss his eventual Jan. 20 surgery.
"We're going to miss him this year, but on the flip side I'd rather see him recover and come back strong," said Bear Cubs' assistant coach Tom Francois.
The loss of Hill was difficult for the SRJC squad to handle, because he was successful for the club.
"It was tough news to hear. It's always hard to hear about one of your players getting injured," said Bear Cubs' pitching coach Jon Nadale. "Garrett is such a big part of this program and he had worked so hard to get himself in the best shape and help this team win a championship."
When TJS first occurred, the odds of returning to pitch was one in 100. But now there is an 85-90 percent chance for a pitcher to return, according to baseballreference.com.
"I think Garrett will come back stronger than before," Nadale said. "It's a process for sure, but if he goes about his treatment and rehab the right way he will get back to being the big pitcher he is."
Many MLB pitchers have undergone the same surgery and come back better than ever, including Mets' ace Matt Harvey and Braves' Hall-of-Famer John Smoltz. This leaves Hill with an optimistic view on his surgery.
The recovery time for TJS is around one year, and a full 100 percent recovery can take up to two years. Hill plans to pitch for the Bear Cubs next season.
"I want to be able to return to better or at least to where I was before surgery," he said. "I'll be back here next year and then try to go somewhere, hopefully DI [Division 1]."