Bear Cub smashes her way to success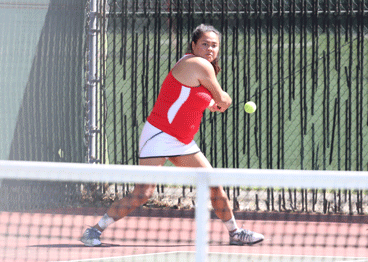 Betsy Samonte of the Santa Rosa Junior College tennis team was named the 2016 Big 8 North Tournament Champion after winning the finals at the Izzy Derkos courts April 7.
SRJC hosted the 2016 Big 8 North Conference Tournament for the women, and Santa Rosa High School held the men's tournament.
The tournament ran from March 31 to April 7 and served as a qualifier for the California Community College Athletic Association State Championship Individual Finals. SRJC's women's team represented well with six players competing, including the top two seeds in the individual bracket, Samonte and Miriam Lane, who were also the No. 1 seed in the doubles bracket.
Samonte and Lane were expected to win the doubles tournament but dropped out because they wanted to conserve energy for playoffs and  weren't facing any real challengers.
They were also the favorites to win the singles bracket and eventually faced off against each other in the finals, which Samonte ultimately won in two sets over her doubles partner.
Coral Imnhoff's second round match took nearly three hours and was a prime example of the difference in the level of competition. Most points in her match ended with extremely long rallies as each player tried to hold on until the other made a mistake.
"I would say I played more competitively because I had to change my entire game just to win and because this is such a big match," Imnhoff said, smiling after the victory. "Now I'm qualified to go to the state tournament; that's why I fought so hard for it."
Her opponent was aggressive,   particularly when she lost a point, and even batted two balls over the fence in anger, which cost her two games due to penalties. There were many disputes between
Imnhoff and her opponent over whether the ball had landed in or out of bounds.
"It's really frustrating," Imnhoff said after the match. "Especially with our points, they were so long and to finally put it away and see it [land] in but hear [her say] 'out,' it's just so frustrating to me."
Eventually Imnhoff called for a line judge to observe their match, but she only watched one game and missed a few calls.
"We had that one tough match…that three-hour match. Everyone has a hard time with those matches because you've got to battle yourself, your own demons, because you're going to be forced to finish and forced to get your own quality shots versus relying on your opponent to make the mistake, and [Imnhoff's] MO is to wait for you to make your mistakes," said head coach Jay Samonte at the end of the first day of the tournament.  "That was a good win for her to be able to get through that, because Coral has had a hard time with players like that."
Other very competitive matches included Preston Bernd and Jaeli Samonte's, who had only lost one doubles match playing together all year. They fought hard in their close match, which had seven match points, but they eventually lost.
Jaeli Samonte was visibly upset and immediately walked towards the training room after the match. They were still alive to qualify for state but lost in the consolation rounds as well, although
Bernd did qualify for state in the individual consolation bracket.
"I think there were some casualties. There were some tough losses like [Bernd and Jaeli Samonte's doubles match] where they had seven match points," Jay Samonte said at the end of the first day of the tournament.
Jay Samonte was happy for the players who did make it to state and for Betsy Samonte and Lane to have a chance at being the Conference 8 tournament champion. But his main priority was to focus on the team's health and having them ready for playoffs.
The CCCAA State Championship Individual Finals take place April 21-24 in Ojai, California.