SRJC women's tennis team smashes opponent as men's team suffers brutal shutout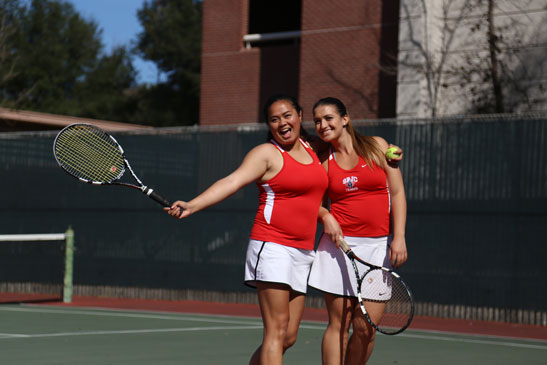 The Santa Rosa Junior College women's tennis team [6-0 , 3-0] remain undefeated as the men's team [2-3, 2-1] was demolished in its meeting with American River College on Feb. 26 at Izzy Derkos Courts.
The women's tennis team won every match that day, leading to an 8-0 whooping.
These large margins of victory have become a trend for the women's team this season, holding teams to two points or less in five of their six wins.
Head coach Jay Samonte predicted the day would go the way it did. He rested his number one player, Betsy Samonte, and gave Preston Bernd the starting job.
The coach's gamble paid off as Bernd handled her opponent, easily winning her match.
"I was slicing my serves a lot, but I tried to do whatever I could to get the win," Bernd said after the match.
On the other side of the spectrum, the men's team lost every match, leading to an 8-0 shutout.
"I expected it to go this way," said Nick Wicht of the men's team. "[American College] is really good."
ARC was simply more talented and experienced than SRJC. ARC even flipped their lineup to give the players lower in the lineup more of a challenge against the Bear Cubs.
The men's team expected the blowout; however, they wished they could have taken advantage of more matches.
It was good experience for the men's team to face such a talented opponent, but they shared a look of frustration throughout the day.
SRJC gets a chance at redemption when they face ARC again March 15.
Both teams faced Diablo Valley College March 1, with the men's team losing 9-0 and the women picking up a 8-1 win.
As for now, the SRJC men and women's teams will focus on  road matches against Folsom Lake College at 1 p.m. March 8.