Double Defeats: SRJC men's and women's basketball end playoff dreams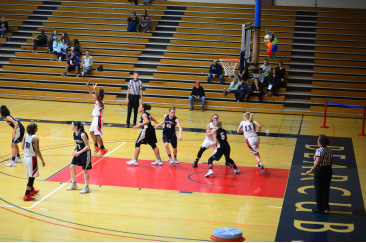 The Santa Rosa Junior College men's and women's basketball teams both suffered crushing defeats in the third round of the California Community College Athletic Associations Regional Championships March 2.
The men's team lost to San Francisco City College 100-69, while Sierra College beat the women's team 72-47.
The men's team went into the third round full of energy after upsetting the eighth-seeded Butte Roadrunners 75-67 en route to their fourth straight victory.
Their matchup versus SFCC was a dismal affair after their second round playoff win.
The Rams jumped out to a 20-3 deficit with the Bear Cubs playing catch up for the rest of the game.
The Rams shot 16-for-36 from 3-point range, beating SRJC at its own game. The shots simply weren't falling for SRJC, scoring its eighth lowest point total of the season with 69. The Bear Cubs allowed the most points to the Rams in a game with 100, 30.1 points more than their season average.
"We had to take care of the ball and execute our shots" McMillan said. "On the defensive side we had to run them off the boards and play strong defense."
SFCC freshman guard Zachary Copeland stole the show with a game-high 25 points, including a barrage of 3-point shots, going 8 for 10.
This disappointing finish is an ugly end to an otherwise great season for the men's basketball team. Despite dealing with no depth on one of the league's smallest rosters, McMillan managed to pull the team together and claim a playoff win as the underdog.
The team's future is in doubt, with only one freshman starter and five remaining players returning for their sophomore season. While freshman guards Kiel Long and David Niklasson grew into substantial parts of the rotation, Alex Mostafavi, Michael Septimo and Sadik Sufi have a lot to prove next season as they combined for 4.7 points per game and one start between them.
The women's team took on three seed Sierra College with momentum from its second round blowout victory against West Hills College Lemoore. The Bear Cubs wanted revenge on the Wolverines after losing to them in their last regular season game 71-56.
Unfortunately, SRJC lost again. Sierra outperformed and knocked SRJC out of the playoffs.
"We honestly just couldn't put the ball in the basket," sophomore guard Jenna Dunbar said. "We knew what to expect and just weren't able to connect; tough way to go out."
Despite the loss, SRJC conquered various season challenges, finishing just two wins away from advancing to the State playoffs.
"We had a lot of obstacles to overcome throughout this year," Dunbar said. "With each obstacle we accepted, adapted and moved on."
All of SRJC's starters were sophomores this season, leaving room for a new starting five next season and many questions heading into the 2016-17 season.  Head coach Lacey Campbell is tasked with the job of creating another group of successful players.
"Coach Campbell has created an amazing program. The whole community knows of the program's success and her legacy in coaching," Dunbar said. "The returning players from this year will step up [next season] and lead the new players into another great season of SRJC basketball."
For both basketball teams, there are a lot of questions about  rosters heading into next season. Although the experience and previous success of both McMillan and Campbell, it wouldn't be a surprise to see SRJC come back even stronger next season.