Women's tennis rolling, men's stays idle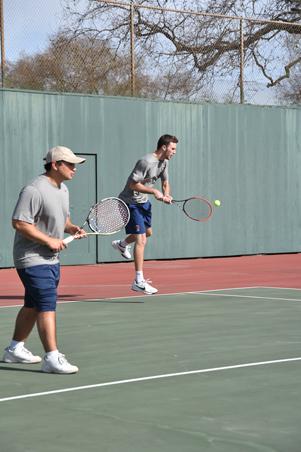 The Santa Rosa Junior College Women's tennis team [3-0] bounced back with two solid wins after a mediocre performance in the 2016 Mission College Intercollegiate Tennis Tournament.
SRJC started the season with an 8-1 routing of San Francisco City College but were not as successful when competing in the tournament.
The tournament was played in five flights for singles and three flights for doubles, with teams' first-ranked player in the first flight and second-ranked player in the second flight.
SRJC was the only tournament   participant unable to win any of its flights and struggled to get players out of the first and second rounds.
One bright spot was Sally Finney. She made it to the final round of the third flight, winning her first and second round matches 8-2 and 8-0. Unfortunately, she lost in the third and final round 8-0 to Canada College.
"I try not to think about winning or losing and just focus on playing hard for each point," Finney said.
Finney made it to the third round of the second doubles flight with partner Coral Imhoff. They won their first match 8-2, second 8-3, then lost the final round 8-3 to Canada.
Betsy Samonte played in the first flight and reached the second round, winning her first match 8-0 but losing her second 8-0. She won the semi-final consolation 8-5.
After the Mission College tournament, SRJC won a close meet against Modesto at home, 5-4, then faced Mills College and handled them easily with a 9-0 sweep on the road.
SRJC women's tennis has not faced anyone in its conference yet. Friday's home meet against Folsom Lake College was canceled due to rain.
SRJC men's tennis [1-2, 1-0] has not been as fortunate as the women's team, starting the season with a 5-4 loss to Modesto Junior College Feb. 11.
The men's team won in its only conference meet so far this season on the road against Shasta College Feb. 16. However, that was quickly followed by an 8-1 loss to Grossmont College Feb. 20.
The SRJC women's tennis team faces Sierra College and the men's team takes on Solano College Feb. 23 at home. Both are conference meets.
"I think we have a strong team, so I'm hoping we can pull out a win this Tuesday," Finney said.