Warriors silence their haters game by game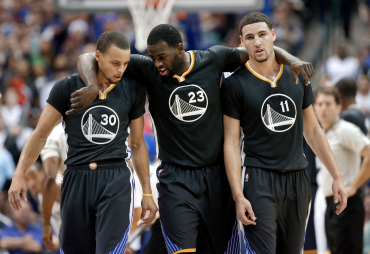 The idea that the Golden State Warriors were lucky to win their NBA championship last season should be put to rest.
During the offseason, numerous NBA players and coaches questioned the Warriors.
Skeptics claimed the Warriors did not face "healthy" teams during their playoff run.
Los Angeles Clippers head coach Doc Rivers said the Warriors were lucky they did not face his Clippers or the  San Antonio Spurs in the playoffs and everything went right for them.
Houston Rockets point guard Ty Lawson insinuated MVP Stephen Curry was not trying on defense during the Western Conference Finals.
Injuries are a part of sports. The Warriors played the teams put in front of them, and they prevailed.
This season, the Warriors started a record-breaking 24-0; the greatest start in NBA history.
There was no "championship hangover" and it seems the Warriors are motivated to prove their worthiness as champions.
Now, 54 games into the regular season, the Warriors have an outstanding 49-5 record. Along the way, the Warriors have destroyed anybody and everybody in their path.
The Warriors faced the Cleveland Cavaliers Jan. 18 and embarrassed them by 34 points. Days later, they blew out the Spurs, the team with the second best record in the NBA, by 30 points. The Spurs game was followed by a 31 point demolition of the Chicago Bulls.
On Feb. 6 the Warriors beat the team with the third best record in the NBA, the Oklahoma City Thunder, 116-108. Most analysts and fans label all four  teams as championship contenders.
Through 54 games, Michael Jordan's legendary 1995-96 Bulls team, considered the best team in NBA history, owned a 48-6 record. They finished with a record 72 wins. The Warriors are on pace to break that.
Being compared to those Bulls is an amazing feat as that team is the epitome of greatness.
There are still 28 games left to play, but the Warriors have established themselves as possibly the greatest in NBA history.
If they break the Chicago Bulls' all-time win record and win back-to-back NBA championships, the Warriors will have reached the pinnacle of the sports world.