They're a streakin': baseball team win streak reaches nine games, leads state in scoring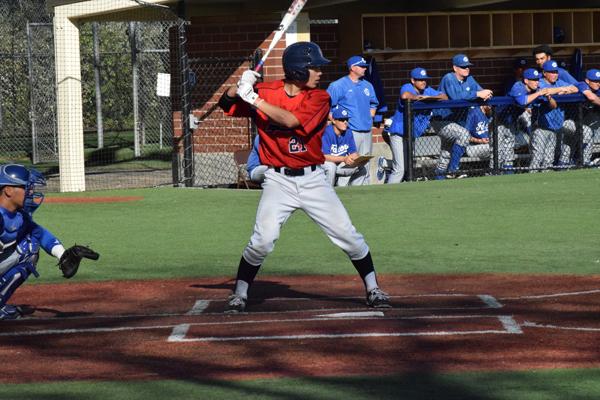 Averaging more than 10 runs a game, the Santa Rosa Junior College baseball team improved to 10-1, defeating the Solano College Falcons 7-1 for its ninth consecutive victory Feb. 20 at Cook Sypher Field.
The Bear Cubs' 112 runs is the most in the state by 27 runs. They lead the state in walks, rank eighth with a .330 team batting average and are tied for second in doubles.
"We keep coming up with those big hits," said center fielder Bryce Nagata. "It's amazing to be a part of this."
Nagata's RBI double in the fifth inning increased the Bear Cubs' lead to 3-1 over the Falcons. He finished 2-4 with a double, triple, one run scored and two RBIs.
Sophomore Mitch West setup Nagata's RBI double with a single to lead off the fifth inning. He drove in the game's first run with a two-out RBI single in the second inning. The left fielder finished 3-5 with one stolen base, one run scored and two RBIs.
"We're keeping the roll going," West said. "We're still trying to improve though. We can always get better."
The Bear Cubs' pitching has been equally impressive, owning a state low 1.73 ERA. They've allowed one run or fewer in seven of their nine straight wins, including four shutouts.
"Damon [Neidlinger, head coach] prepares us well," said starting pitcher Ezio Bruchler after allowing one run on four hits in seven and one-third innings pitched. "We take things one game at a time, one pitch at a time, and hopefully we come out on top," he said.
Bruchler hardly faced any trouble, retiring the side in order four times and only allowing one run on a wild pitch. The freshman from Chico High School also improved his command allowing just one walk. In his previous three starts, Bruchler allowed seven walks in 12 innings pitched.
"I kept balls in the zone and had confidence in the guys behind me," Bruchler said.
The Bear Cubs' 10 wins is the most in the state and their one loss puts them behind just three undefeated teams in the state, including Big 8 Conference foe Cosumnes River College (9-0), who they play April 26 at home in the final series of the season.
"We're well trained for the situation," Bruchler said. "We're not satisfied at all."
The Bear Cubs' next game is against Canada Community College 2 p.m. Feb. 25 at Cook Sypher Field.