Put on your rally caps: late inning magic boosts Bear Cubs softball to fifth straight victory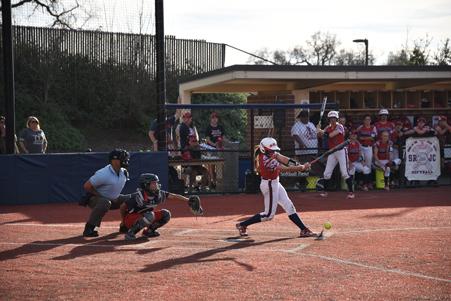 The Santa Rosa Junior College softball team [8-3] increased its winning streak to five games using a three-run bottom of the sixth inning to rally and defeat Gavilan College 4-2 Feb. 16 at Marv Mays field.
Bear Cubs' pitcher Rachelle Butulia pitched all seven innings and only allowed one earned run. Butulia is the ace of the Bear Cubs' two-woman pitching staff. The other pitcher is Ashley Stevens. Combined, the two pitchers have a 2.65 ERA and six complete games so far this season.
"Each game we are told to get ground balls and outs, so we don't have to work as hard," Butulia said. "It helps when you have a team behind you to get your job done."
On the offensive side, Stevens contributed two RBIs in the win. Stevens is the team's best hitter so far this season. She has contributed with a remarkable .514 batting average and a .561 on-base percentage. As a team, the Bear Cubs are hitting .322.
"We've been working a lot at practicing on production when we have runners on base," Stevens said. "We are learning to be smart hitters and are having better at bats each game."
During their five-game win streak, the Bear Cubs have dominated their opponents, outscoring them 38-17. Their hitting has been phenomenal with a .403 on-base percentage.
"That's just a product of timely hitting," Stevens said.
Stevens also credits the team's success to the chemistry between players. "We all get along really well. Transferring that onto the field has done wonders," she said.
The Bear Cubs recognize there is always room for improvement, even with their recent success.
"We are hitting the ball well, but we need to be hitting the ball well with runners in scoring position," Bear Cubs' Cheyenne Cooper said. "That's how you win games."
The Bear Cubs look to increase their win streak to six games when they take on Solano College at 1 p.m. Feb. 23 in Solano.