Bear Cubs rebound: men's team gets hot in time for playoffs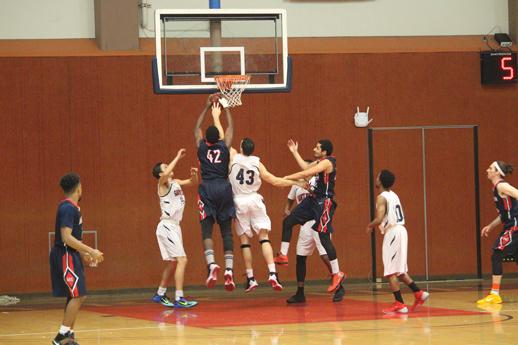 The Santa Rosa Junior College men's basketball team [18-10, 8-6] won its season finale against the Sierra College Wolverines [13-14, 9-5] 90-78 Feb. 19, ending the season on a three-game winning streak with plenty of momentum for the playoffs.
Bear Cubs' guard David Niklasson led the team to a hot start, scoring 14 of his 21 points in the first 10 minutes of the contest. Santa Rosa's biggest lead was 18 in the first half, and was matched again at 83-65 with four minutes to play. A late run by Sierra made the game closer, but it wasn't enough.
Sierra College's hack-and-slash method of scoring struggled against the Bear Cubs' interior defense. The Wolverines grew impatient and tempers flared. Wolverines' guard Eric Toles fouled out of the game at the end while the referees ejected Wolverines' guard Anthony Williams after a verbal dispute with Bear Cubs' guard Siaan Rojas. 
Wolverines' head coach John Fusano lost his temper while his team lost control of the game.
Head coach Craig McMillan was proud of his team after defeating a tough divisional opponent. "At times we played as well as we could play," he said. Defense and ball mobility are fundamentals he stressed throughout the season and they paid off during their three-game win streak.
After being on the fringe of a playoff position, their recent surge could land them a spot. A morale boost came with guard Kiel Long's return from injury after missing five games. Long and forward Jordan Hickman, who averaged 14 points during the last three games with two double-doubles, bolster a once frail bench unit with depth.
"Right now we play pretty good defense, rebound well defensively and we've been a good shooting team taking care of the ball and not turning it over a lot," McMillan said. "We're excited to hopefully get a playoff spot."
The key to this team is sharing the ball. The Bear Cubs average more than 18 assists per game when they win, yet just 15.3 when they lose.
When guard Josh Douglas orchestrates the offense with his tremendous vision alongside guards Siaan Rojas and Jacob Wilson, SRJC dominates.
McMillan preaches to 'share the rock' so opposing defenses stay on edge. Four players average more than 11 points, yet the leading scorer is Rojas at 13.7 per game.
Not relying on a single scorer creates matchup issues and stronger rotations as McMillan coaches around who has the hot hand during a game.
Right now, the entire Bear Cubs team has the hot hand going into the postseason.