Bear Cubs playoff hopes remain high despite recent two game slump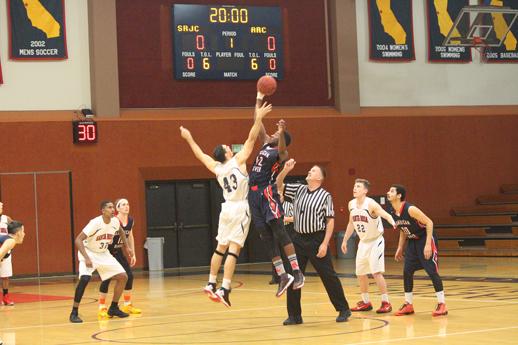 The Santa Rosa Junior College men's basketball team [14-10, 5-5] faultered  in a physical game as they lost to the Diablo Valley College Vikings 67-54 at home on Feb 5.
Using press defense early, the Vikings locked down the paint on the Bear Cubs, causing them to take wild outside shots with no success.
The 6-foot-7-inch, 290-pound Damien Banford anchored the Vikings' defense while he displayed an array of offensive talent on the other end. He hustled after loose balls, threw great passes and conquered all of the defensive formations SRJC head coach Craig McMillan threw at him.
The Bear Cubs' offense struggled throughout, scoring a total of 54 points, the second lowest all season. Freshman David Niklasson was the silver lining, scoring on most of his shots whether they were running jumpers, layups or deep threes.
"We need everyone if we're going, to have a deep run in the playoffs," said Niklasson after the game. "It doesn't matter if I score 25, we need everyone to contribute to win."
Despite another conference loss, SRJC's men's squad is geared at a playoff shot.
"We're going to have to play better but mathematically we have a chance [at playoffs]," McMillan said. "If we play like this we're not going to though."
The Bear Cubs rank third in the Big 8 conference and 22nd in the California Community College Athletic Association power rankings, despite numerous obstacles throughout the season.
McMillan's unique and adaptive offense creates opportunities for it to succeed; a big reason they're in the playoff hunt. Fighting the hard fight down low in the paint is challenging for the squad, but McMillan spreads the floor with ease to make the defense too thin to cover the entire half court, letting the "big" men get easy buckets.
Injuries to 6-foot-4-inch freshman Kiel Long made the roster drop to nine players and only three low postmen.
Niklasson and sophomore guards Josh Douglas and Siaan Rojas stepped up with dramatically increased minutes and efficiency. Over the last seven games they averaged a combined 49.4 points. The team averages 80.8 per game. Douglas is shooting 54 percent from the 3-point line while Siaan Rojas averages 7.2 rebounds per game and 5.2 assists on the floor; the closest thing the Bear Cubs have to a triple-double player.
As a team, the Bear Cubs rank well in many statistics across the entire league, especially in 3-point shooting. With SRJC ranked 47 out of 92 teams in rebounds due to small lineup and height, its 3-point shooting is a necessity. Its ranked 12th at 38.1 percent, despite attempting the ninth-most 3-pointers.
Losers of their last two games, the Bear Cubs need momentum in order to clinch a playoff berth.
"I believe we deserve where we stand [in the rankings]," McMillan said. "We have to tighten up our defense, be more aggressive and we have to step up and make our shots [in order to make playoffs]."
The Bear Cubs look to get back to their winning ways when they face Modesto at 5:30 p.m. Feb. 9 in Modesto.